A clear path is something Rockie Lynne playfully admits he doesn't have.
Sitting in his Statesville recording studio, surrounded by numerous gleaming guitars, his blonde hair bounces a little bit as he jokes he's not even sure what day it is.
"It's not correct that I have any kind of plan, or that I'm smart and I said 'I'm going to do this,' because I'm not," he said. "I'm actually like a really lazy person. I don't know how I ended up being busy all the time and working, because I don't want to. I want to sit on the couch and play guitar and eat Pringles."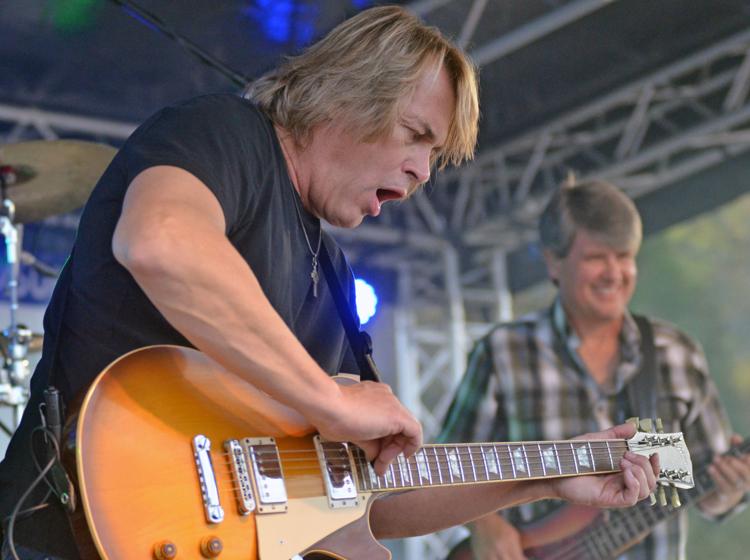 The only thing Lynne knew he wanted to do as a young man was make a living through music. He recalled back to his time at North Iredell High School where he volunteered in the library just so he could be there when the latest copy of "Guitar Player" magazine came in.
So when he learned the G.I. Bill would pay for him to study at the Guitar Institute of Technology (now the Musician's Institute) in California, Lynne said he enlisted in the delayed entry program while in the 11th grade and left for his service the day after graduation.
Nowadays, when the singer-songwriter isn't touring, he can still be found either on stage working the microphone as a motivational speaker, or doing charity work through his organization Tribute To The Troops. Between all that, he still finds time to practice guitar and assemble a new album, which he mentions comes after his daily workout.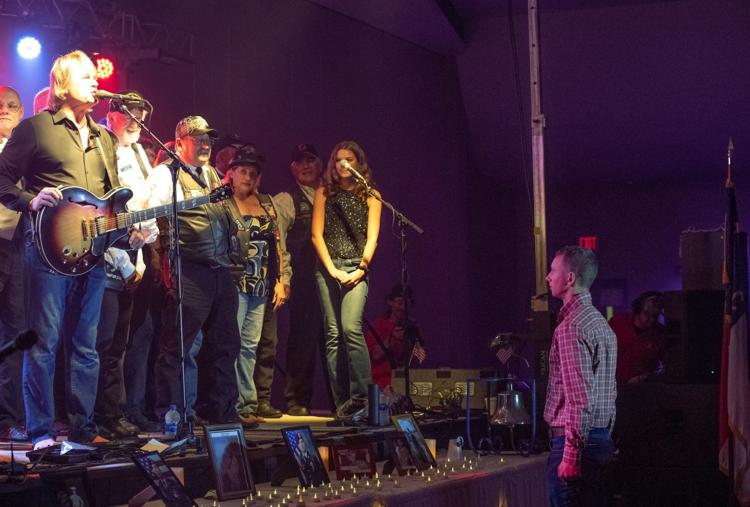 Lynne said he learned that discipline from his time in the Army, and that sacrifice wasn't on the forefront of his mind when he signed on. Orphaned as an infant and taken to the Barium Springs Home for Children, the service was his ticket out of Statesville.
"I would love to sit here and say to you I joined the Army because I'm a patriot, and because I love my country and because I wanted to serve," he says. "Those things wouldn't be the truth. I joined the army so I could go to GIT."
But Lynne added what he didn't expect was the military would be the first place where he'd actually be told something positive about himself.
"I went right after Vietnam," he says. "And all the sergeants … my jump school instructors, all those people were hardened Vietnam veterans that had seen actual combat and had served our country in the most honorable way, and then got not a whole lot of respect for it. But what they did was they just kicked my (expletive) and just pointed me in the right direction."
After his service, he went to GIT, eventually leaving for Nashville and touring the club circuit. In 2005, Lynne described being offered the opportunity to play for troops stationed overseas and said the last thing he wanted to do was brag about what he's done, especially to a group of people similar to the men who'd taught him so much during his time in the military. So Lynne wrote a collection of songs focused on the narrative of military service, entitled "Songs for Soldiers," which he passed out after each performance.
"I was a kid that was deployed," Lynne explained. "I went to Grenada (and), I went to Nicaragua, and I was afraid and I figured they felt the exact same way, except even more so because they're going into an actual big war. I thought I would maybe, somehow or another, be able to encourage them."
He said he hadn't really written many songs intentionally for veterans prior to that, and kind of thought of it as a one-time thing. It was nice to see that message resonate with troops while he was performing, and even after playing at places like the Grand Ole Opry, Lynne said those performances felt different.
"I've never felt more proud of anything I've written than when I sang those songs for those men," he remarked. "And I would rather play in a tent in Al Anbar Province for 15 guys than I would play at the Trump Hotel for a bunch of rich people that don't give a (expletive). I really would, I just would."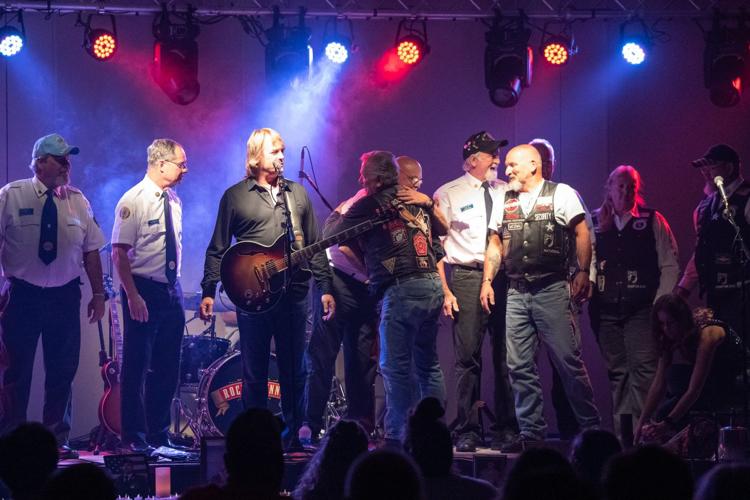 But what he didn't expect was the deluge of requests that followed.
He was seeing his songs pop up all over the internet, and was getting asked for hundreds of copies of the album so it could be passed on at military graduations.
"So then I was faced with the dilemma of I've got these songs that I wrote not to profit from, I didn't want to make anything with these songs," he said. "I just wanted to give something (to the troops), and now people want to pay us for it."
His solution was the Fallen Heroes' Children's Education Fund, which Lynne said has in the past 16 years, sent 72 children to college who've lost their parents to war. Lynne had co-founded Tribute to the Troops in 2004, the organization's website said, after he and a group of friends on motorcycles paraded to three Minnesota homes in remembrance of the family's loved ones that had died while in service.
And the ride is still going strong.
The North Carolina chapter held a memorial ride and concert Oct. 12-13, which the group said featured more than 150 bikers. Lynne said for each ride he compiles a biography of the fallen soldiers they're celebrating, something he said can take months. He said the need for the extra research is to fill in the gaps not addressed by obituaries and sites like Remember The Fallen, to get a sense of the person who's no longer there and the hole it leaves within a family.
That's kind of Lynne's way of avoiding the spotlight himself.
"I try to make my life as not about me as I can," he said. "I really like being in service to other people. I like doing things for people; my goal is to be a kind, good person."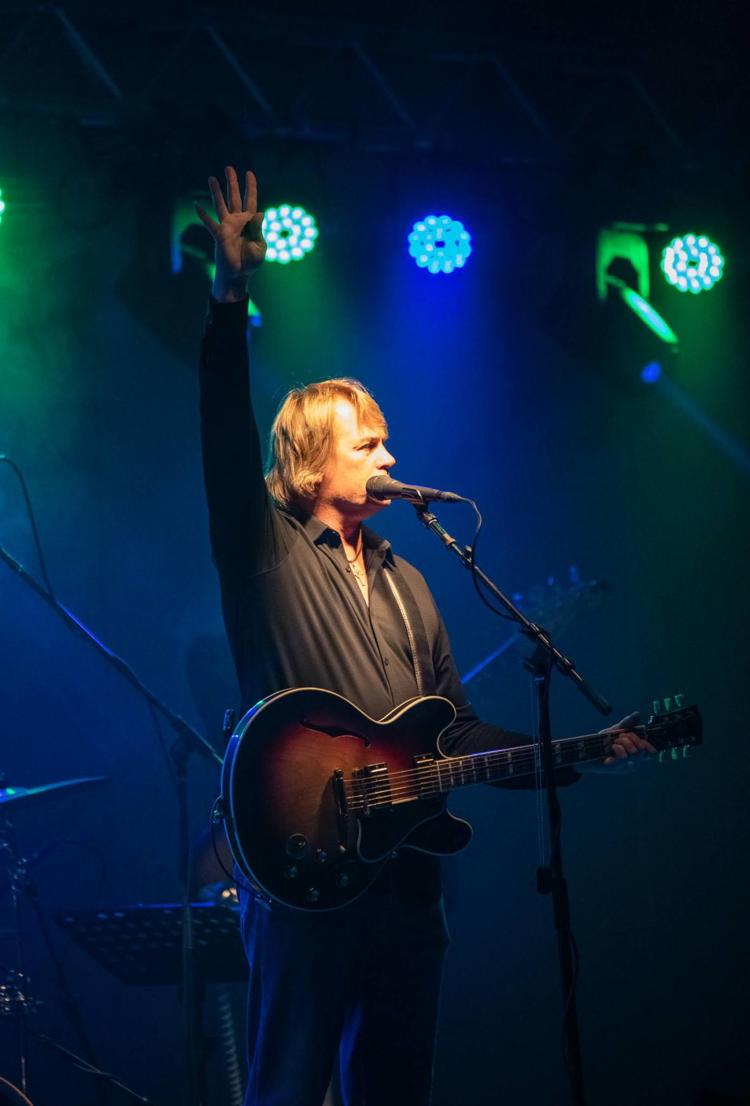 He also acknowledges he's lucky for the opportunities he's been given through music and service; all by doing something he would have gladly done for free. He said that music has not only provided every bite of food his children have eaten, but it's also paid for things like his daughter's college.
"I've been able to make a living doing something that was my dream, and I started at the Barium Springs Home for Children. So it's just a really odd path that I've been on," he said.
But he's also thankful for those that continue to serve.
"I think the people that go and serve (now) are going for completely different reasons than I went," he says. "I went so I can go to college, and I got something really great from it. But I'm not brave enough to do what James McClamrock did, or Steve Goodwin …or Alex Gilchrist, none of those. I'm not as brave as they are. Those are super brave men, I don't think they're doing it to be tough at all, I think they're doing it to be, if anything, compassionate. They're doing it to protect."