For eight years, Joe Crosswhite spent weekdays serving on the judicial bench and weekends flying around the country on military business.
It was a challenge he doesn't regret.
Crosswhite is Iredell County's resident senior superior court judge. He's been a judge since he was elected in 2008, but he's been in the military much longer. He joined the Army in 1984.
Crosswhite went to college on an Army ROTC scholarship. He was commissioned as an artillery officer and stationed in Germany for three years.
During his last year in Germany, he and his peers were talking about what they wanted to do after their service. Crosswhite said he was considering going to law school. One of his friends said the LSAT was being offered in Munich the next day.
"I hadn't prepped. I hadn't done anything," Crosswhite said. "The more I thought about it, the more I thought, 'Well, I'm going to take that.' I just rode down there and took it completely cold and didn't think much about it."
After Crosswhite received the test results, the Army approached him and offered to pay for his law school tuition if he became a judge advocate general officer.
Crosswhite attended the University of South Carolina and became a JAG officer after his graduation. Most of his time after that was spent in the reserves, but he was mobilized a few times.
In 2005, he was sent to Iraq where he investigated abuse allegations in U.S. prisons in the Middle East and made recommendations.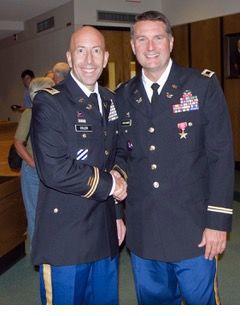 Crosswhite said he decided to become a judge while he was in Iraq after reading a book called "Halftime." The book's concept is the first half of your life is about success and the second half is about making an impact on others.
"Judges don't make as much as lawyers do, and I think that's a big misconception for people. I wanted to do this (become a judge) because I felt like you had an ability to make more of a difference in people's life, to actually reach more people," Crosswhite said. "I think lawyers do great work, but as a judge, you come into contact with way more people, and you have more ability to impact somebody's life hopefully in a positive or good way."
Crosswhite was elected in 2008. He was also a lieutenant colonel. For years, he was out of town 40 weekends of the year for the military. He was flying across the country on a weekly basis.
"I was gone all the time, and you'd drag back in Sunday night and you were tired because you'd tried to get a full week's worth of work done in a weekend, and you'd get back in Sunday night," Crosswhite said. "You were exhausted and you were tired. There were so many things you didn't get done, and you'd have to get up and be right back in court again Monday morning, and that would go on for weeks and weeks and weeks."
Crosswhite said he was grateful to his wife who managed their home and lives in Statesville while he was gone.
"The people, the family supports the military, husbands or wives or kids, they're the unsung heroes. They're the ones that step in without thanks, and they keep everything going," Crosswhite said. "Nobody was standing there when she (his wife) got off the plane to say 'Oh, great job and thank you for doing it.'"
The same desire to positively impact people drew Crosswhite to Afghanistan in 2013.
The U.S. was helping the Afghans create a judicial system. Crosswhite was in the southern part of the country. When the system was set up, the U.S. gave any members of the Taliban being held prisoner to Afghanistan to be tried in the new court system.
Crosswhite said Afghanistan had a tribal system before the U.S. intervened. Under that system, a victim went to a community leader seeking reparation, and that leader would tell the people who had wronged the victim what to pay to restore their honor.
Afghanistan also had a lot of Soviet influence from Russian presence during the Cold War, he said.
Helping create a judicial system "was a lot more of a challenge than I ever thought because women couldn't testify in court. Even if you were the victim of a crime like a rape or something like that, you couldn't testify. You couldn't get on the witness stand and say 'He's the one that did that' because you were female," Crosswhite said. "Under Afghan law, the only people who can testify are Muslim men. I couldn't testify. It was also a lot of other issues with collecting evidence and trying to do things like that."
There are several differences between the Afghan and American court systems that only start with the strict limitations on who can testify. Crosswhite said there are no juries, and the rules of evidence are much more lax.
During the time Crosswhite was in Afghanistan, there was a man accused of raping a boy. The man ran to the northern part of the country with the boy before he could be tried. Crosswhite said, unlike America, where officers can retrieve criminals who have run to a different state, the Afghans were unable to follow the man to a different providence.
The trials are also much quicker.
Crosswhite said he attended a murder trial about which the Afghan officials were excited. The man being tried was accused of the deaths of several previous court officials.
"We're so used to doing things and having court reporters and I said something to the judge," Crosswhite said. "I said 'Are you going to record this?' This was a big monumental thing, and he hadn't thought of that. He talked around, some of his people went out, and this guy pops up with an iPhone and records the whole thing on an iPhone."
The whole trial took five minutes. The evidence was hearsay, which may be inadmissible in an American courtroom. The man was found guilty and sentenced to death by hanging. He appealed, but there is no credible appeal in Afghanistan, Crosswhite said. The man was hung four days later.
"We tried to help them get a legal system set up, but we didn't do it for them," Crosswhite said. "At the end of the day it had to be their legal system. It had to be something that worked for them. We would help them. We would encourage them. We would give them assets and resources and things like that, but we let them try to develop their own legal system."
Crosswhite said the Afghans tried to create a good judicial system. However, he says the country has a long way to go before it's as fair as the American system is.
His experiences in Afghanistan created a deep appreciation for the American system. Crosswhite said a judicial system based upon integrity and fairness is not something every country has. He believes a jury is the best form of government.
"A lot of times I'll tell our juries now, how lucky we are to have the system we have," Crosswhite said. "It's not a perfect system, but it's based on evidence, on credible evidence, and it's not a judge making a decision. It's 12 people who are just concerned with hearing the facts and doing the right thing, and we're lucky that we have that system we have, and I tell everybody that."
Crosswhite retired as a colonel in 2015. He said he was invited to attend a war college in Pennsylvania to qualify for a promotion to general. However, he had missed his son's sophomore year of high school when he went to Afghanistan, and he didn't want to miss his senior year. It was also a reelection year, so he wanted to be present in the community. He opted not to pursue the promotion.
"I'm going to tell you, I really accomplished what I wanted to do," Crosswhite said. "I served in both Iraq and Afghanistan. I got to be a part of that and feel like I made a difference, got to meet some incredible people."
Those people and the integrity they demonstrate is what Crosswhite cherishes most from his military service. He holds them in great regard and said he is glad he surrounded himself with those kinds of people.
"If somebody were to ask, 'Were you to do it again, all those weekends you were away, would you do it again?' Absolutely, absolutely I would do it. I feel that strongly about it. I feel that strongly about what you do and who you do it with," Crosswhite said. "If I could start over as a brand new second lieutenant, go to basic training again, if my 57-year-old body would let me go through basic training again, I'd do it in a heartbeat."