WARNING: This story contains disturbing details concerning the triple homicide.
As the search for Maria Calderon's body in the Catawba River continues, details about her death and those of her children have emerged.
Calderon's two children — 11-year-old Angel E. Pacheco and 12-year-old America D. Pacheco — were shot and killed at their home on Pine Meadows Lane in Taylorsville, according to recently executed search warrants. Emergency personnel responded to a house fire on Pine Meadows Lane at 11:30 p.m. Saturday. Two bodies, which were burned beyond recognition, were discovered after the fire was extinguished.
In a Sunday interview, 16-year-old Heidi Darlene Wolfe told investigators she went with her 30-year-old boyfriend Areli Aguirre Avilez, who is Calderon's ex-husband, to the Pine Meadows Lane home, according to the warrants.
Wolfe also admitted to using a Volkswagen Golf, which was seized by police Monday, to run over and kill a "little girl" as she ran from the home. Avilez wrapped the body in a cover and took the body to Oxford Dam, according to search warrants executed on Tuesday.
The car is not registered to Wolfe or Avilez, the warrants say.
Alexander County Sheriff Chris Bowman clarified on Thursday that investigators originally believed the body in the river was that of the 12-year-old girl but learned Tuesday that Calderon was the victim run over by the car, wrapped up and discarded in the Catawba River. Preliminary autopsy results identified the two bodies found in the home on Pine Meadows Lane as that of Calderon's two children. Rescuers, who have been searching the River since Monday, have yet to find Calderon's body, Bowman said.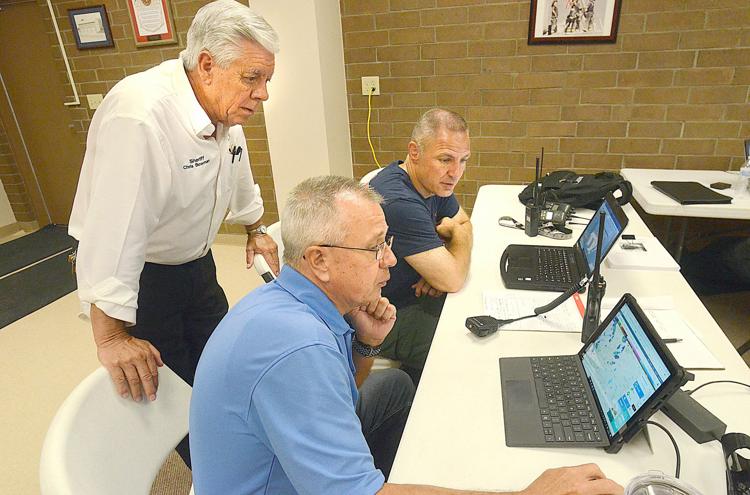 Wolfe's mother, Angela Guillen, told WSOC, a Charlotte television station, that she doesn't believe Wolfe could have played a part in the tragedy.
"I know my daughter. My daughter isn't like that. She's a child herself, and she even told me, 'Mom, I didn't do it,' and why children?" Guillen said.
But Guillen told investigators Monday that she knew Wolfe drove Avilez to the Pine Meadows Lane home, according to the warrants.
Wolfe told investigators that Avilez killed the children in the house, but Avilez denied murdering the two as well as setting the house on fire, the warrants say.
When emergency personnel extinguished the burning home, they noticed a strong gasoline odor. Investigators believe gasoline was used to ignite the house and destroy evidence, according to search warrants.
Avilez was charged with assaulting Calderon in December 2018. Calderon filed a domestic violence order in January when Avilez threatened to burn the Pine Meadows Lane home down, the warrants say.
Avilez and Wolfe were charged with three counts of first-degree murder on Monday, but no one has been charged in connection to the arson.