He's earned his retirement.
While people in Mooresville are used to seeing Cyrus out on the street, now they'll be seeing him in a different role. Instead of chasing criminals, the 9-year-old K-9 officer will just be out for a walk. He retires from duty on Sept. 16, according to a news release. 
"Whenever we're out in public, Cyrus attracts a lot of attention," Corporal Ed Gallagher states of his Mooresville Police Department K-9 partner in the release. "It's not every day you see a fully black German Shepherd. He catches everyone's eye."
The Town of Mooresville outlined the history of the partnership between Gallagher and Cyrus.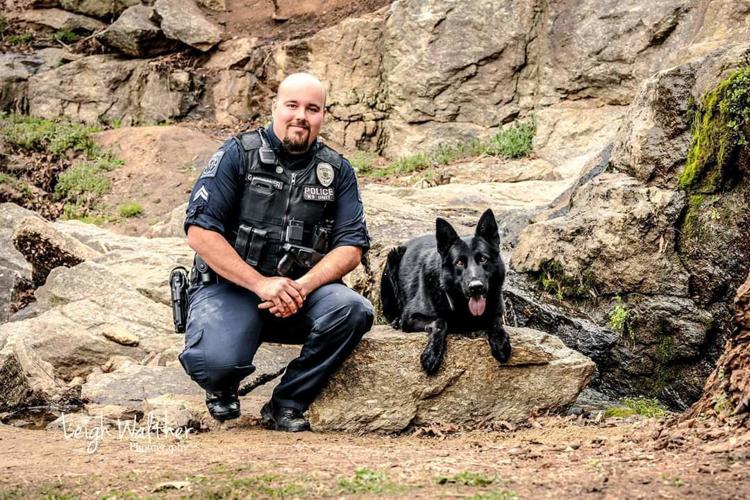 Gallagher's partnership with Cyrus began in 2012, but his interest in K-9s started long before that. He did his senior project at Mooresville High School on K-9s and, after attending UNC Charlotte to get his criminal justice degree and Mitchell Community College for Basic Law Enforcement Training, he joined the Mooresville Police Department in March 2009.
When asked what made him want to become a K-9 officer, Gallagher chalked it up to "being an adrenaline junkie."
"Having a dog means you're always on call and respond to everything … sometimes that means being the frontline during a major incident," he said. "Cyrus is also very vocal. Whenever I was outside of the car, talking to someone, he would be continually barking, and they could hear him. It helped me out a couple of times that people knew he was right there."
While in service, Cyrus served as a dual-purpose K-9, trained in narcotics detection, apprehension, tracking, officer protection, and area and article searches. He worked alongside fellow K-9 Baks (with Officer Josh Barlow), Valor (with Officer Andrew Beck), Hansel (with Officer Jesse Scott), and Ramon, who previously worked with Officer Jordan Sheldon. Officer Dan Walther uses K-9 Sadie as a primarily narcotics-only dog at the Mooresville Graded School District.
Working with Cyrus was "a lot like working with a human partner," Gallagher said.
"He has good days and bad days," he said with a wry smile. "Some mornings, he's grouchy and growls at me, and others, he'll jump up and want to play."
Cyrus assisted Gallagher in some memorable arrests, such as a methamphetamine bust a few years ago.
"There was a large amount of meth in the person's trunk, and it led to gun charges, along with a few other charges," he said.
Now that it's time for Cyrus to retire, Gallagher said, "being a normal officer is going to take some getting used to," even though it's the right choice for him and his family.
"Almost a decade with a K-9 is a big commitment, and with one large dog at home (Cyrus), and two other small dogs, taking on another K-9 would be a lot," he said. "It's a big change, and I'll miss getting together to train with the other officers that are part of the K-9 family, but it's the right thing."
Cyrus is already settling into life at home, Gallagher said, and "I'm trying to the best of my ability to get him to be a happy, indoor dog."
"He likes being outside, though, so he'll be doing a lot of running and playing. He's never had 'people' food, so I'm trying to decide what to give him to celebrate his retirement, a burger or a steak."
With two K-9s retiring, the Mooresville Police Department has appointed three new officers to work with the K-9 unit, including one who will work with Ramon, Officer Jordan Sheldon's former partner. The trio will begin their training Sept. 1 in Alabama, and more will be released about the officers and their K-9 partners once they return.