The following is based upon the interview of Doris Allison and past reporting.
On Sept. 25, 1992, gunshots brought a house party to a halt with two men dead and one critically injured.
That evening, two men with their faces covered by hoods and ski masks approached 746 Washington St. a well-known drug, illegal alcohol and gambling house. They opened fire, shooting Michael Scott III, 38, and Kirk Douglas Gray, 39, with shotguns. The men then ordered everyone in the yard to go inside.
In the house, the men robbed the people and shot Willie Allison, 38. He was sitting on a bar stool when he was shot in the chest. As the men began to leave, they turned back and shot Allison again in the leg.
From there, conditions became more difficult for a future investigation. After the men fled along foot along the railroad tracks, party attendees scattered, leaving the residence. The owner of the house, Sylvester Everett, reported the crime at the police station at 10:16 p.m., at least 30 minutes after the shooting. When police arrived at the scene, all sign of illegal activity had been removed, though evidence of a party was still there.
Scott and Allison were dead. Gray was in critical condition. He has also since died, in 2013.
Scott's and Allison's killers remain unidentified. Anywhere from 15 to 50 people could have been at the house that night, but only a few stayed at the scene to talk to police. The two killers still walk free as do people who were there that night and may have information police could use to solve the case.
"People feel like when you have a gun in your hand, it's power. It isn't power. Power is when you can think with your mind, when you can resolve issues without using weapons, mass destruction to hurt people," Allison's sister Doris Allison said. "You don't have to destroy people to show leadership, does that make sense? I think we've got it backwards. People think power's when you can hurt people. That's not power. That's stupidity, and I think we've got it backwards. Creating fear isn't power. It's stupidity. Power is caring and reaching and helping. It's a sense of love, construction."
The life of Willie Allison
Allison was the oldest of eight children. He was married and had five children. His mother survived him.
"He enjoyed doing the things he enjoyed doing," Doris Allison said. "Some of the things we didn't approve of that he was doing, but we loved him. No one is perfect. We're not making any excuses. Willie loved the things he loved. Gambling was one of them, that was one of his activities."
Doris Allison was the second oldest. While she didn't approve of her brother's gambling, there was a lot about her brother to love. He had a beautiful smile and pet names for everyone. His go-to nickname for people was 'Monkey.'
He loved music, basketball and fishing.
"He was a hard worker," Doris Allison said. "He was a loving son. That pretty much sums it up. He was just a good brother."
Doris Allison said she saw her brother getting a haircut for their youngest brother's wedding on the day of the shooting. She told him not to go to the house party then.
Allison said she and her family heard about the shooting at Washington Street and that her brother was one of the people shot. They went to Iredell Memorial Hospital. When they were told he wasn't there, they went to Washington Street.
They saw Scott's body on the porch and heard someone calling out Willie Allison's name. That's the moment they learned of his death.
"There were so many people in there, so many people inside there," Allison said. "Ever since that night, we've been trying to figure out who had taken our brother's life. All the people that were there, we thought this would be a case that would be easily solved through that, and it has not been."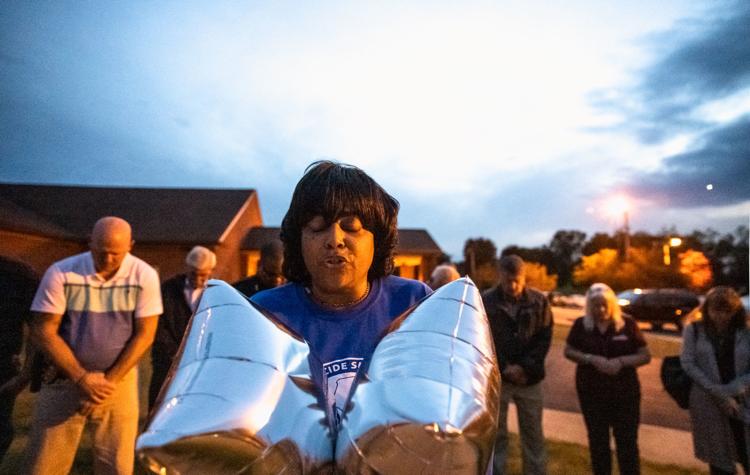 Allison said her entire family dealt with the loss of their brother and son in different ways. Her mother didn't want to let her children see her grieve. Allison's brother James embodied their oldest brother, walking and talking like him.
Two years later, James Allison was also shot in the chest. His murderer was identified and convicted.
"Whatever life that you knew at that particular time, that joy, that innocence you had or whatever, grief takes that over, and you have to learn how to survive through the grief, and that is something you learn through life," Doris Allison said. "No one can write a script to help you through that. You learn through your faith. You learn through trials and error. I had to learn a new life, and it wasn't easy."
Allison focused on trying to find justice for her brother and family. She and Mary Davidson, whose mother, Ethel White Weaver, was the victim of an unsolved murder in January 1992, worked together to try to preserve the memory of their loved ones.
Allison said the two women sent letters asking for help from America's Most Wanted as well as maintaining relationships with the local police and the Record & Landmark. Both partake in a homicide support group as well.
Allison said she is still hopeful someone will come to the police with information that would help solve her brother's case.
"I just hope they realized the fact that our mother's gone," Allison said. "If they could've helped me give her that one wish to see that person brought to justice, if they could help us, if they knew Willie or cared for Willie, if they were family, what would they want for their family? Would they want justice for their family? I wish they would help us to get justice for our family. I pray."