Ronnie Hornaday believes natural products like hemp are a natural way to treat and alleviate symptoms many people experience.
Hornaday owns and operates 704 Hemp, one of the first stores of its kind in Iredell County.
Hornaday opened the store at 101 S. Broad St. on Dec. 13. But this isn't his first foray into selling hemp products. He's offered a few hemp-based items at HORNco Refinery Vape Shop since 2016, which is at the same location.
Although his new store is less than a month old, he says he is happy to offer hemp and cannabidiol (CBD), a product made from hemp. His items go beyond their pop culture prevalence, he said.
"CBD is much more than just a viral media sensation," Hornaday said. "It changes lives. That's why we've had such a great success with returning customers, most of who use CBD every single day."
Hemp can be used to make anything from tires to t-shirts, but CBD is considered by some to be somewhat of a wonder drug. CBD has been shown to treat depression, anxiety and nausea, according to a 2018 study from San Diego State University.
Despite its close association with marijuana, hemp has few legal restrictions on its sale. A new federal law defines hemp as any cannabis sativa plant with a tetrahydrocannabinol (THC) level less than 0.3 percent.
THC is the active component of cannabis that causes a "high" when consumed. The amount of THC in hemp is not enough to get a buzz.
The new federal law also legalized the production of hemp. Hornaday says that is good for both business and customers.
"We believe the legalization of hemp/CBD is a huge step in the right direction," he said. "With CBD's great benefits it will allow people to have the opportunities of treating their symptoms in a more natural way."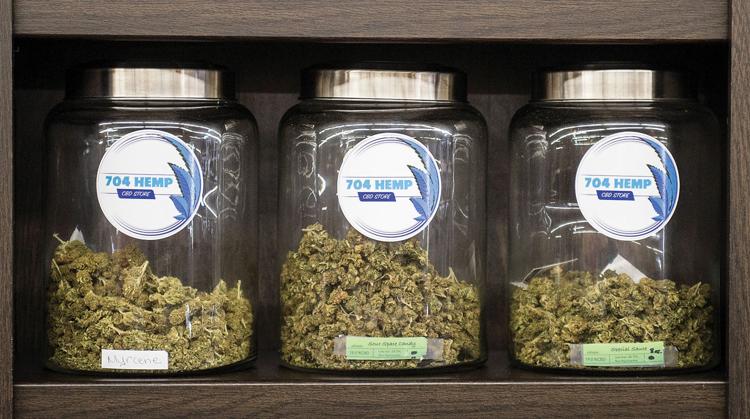 Part of Hornaday's vision involves education. He sees his store not only as a place for the public to learn about the benefits of hemp and CBD, but for his employees as well.
Both his sister Candice and mother Lindy work at the store. Each of them took courses with Alternate Medical Media Professional Development to get certified in CBD's impacts on physiology and health.
"It is important that everyone understands the product they are selling no matter what it is," Hornaday said. "When selling CBD it can be very tricky. … If you have a well-educated and trained staff they will be able to help the customer benefit more from CBD because they will know what products work best for certain things as well as help those customers who are on the fence about CBD."
And transparency is the name of the game. Hornaday has met with local law enforcement to educate them about his products and make sure what he is selling is legal and legitimate, he said.
"We still get each and every product tested to make sure it meets the law requirements as well as to make sure it has what it says it has inside," he said. "This industry is growing at such a fast pace, you have to be careful what you buy and sell. We have found products on the market that claim they have a certain amount of CBD in it and after being tested they don't have that amount in it."
Hornaday sells bath bombs, eye drops, sodas and pet supplies all manufactured with CBD.
He's also got hemp flower on tap, including strains such as Special Sauce and Trump Berry. A 1/8 ounce typically sells for $45-$65.