Sky Mountain Coffee officially opened in downtown Statesville on Monday.
To learn more about the business, here is our feature on it from January:
It may seem odd that two guys with backgrounds in the medical industry are obsessed with high-quality coffee.
But for Andy Smith and Craig Blaney, good coffee is about offering something different.
The two are partnering to open Sky Mountain Coffee in downtown Statesville. The new cafe plans to offer craft beer, wine and food on its menu as well.
After a few delays, Sky Mountain expects to open soon – although an opening date has not been set.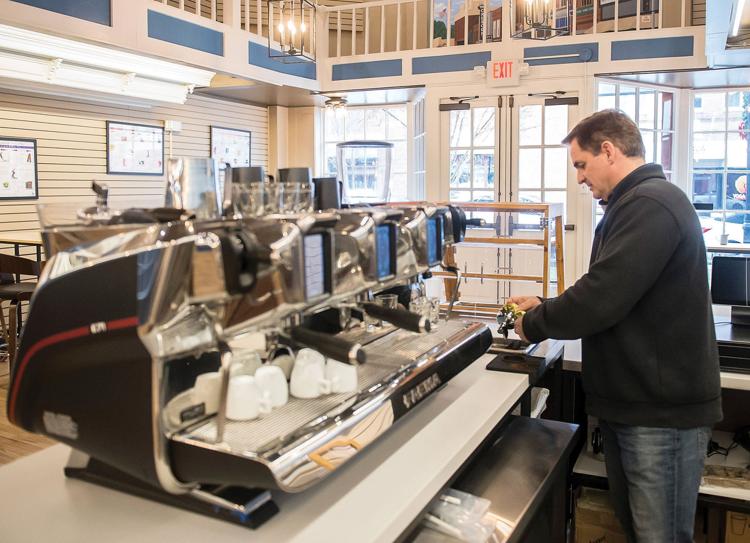 "I went from one legal drug to another legal drug," joked Smith.
Prior to working in the coffee industry, Smith worked as the Director of Managed Markets at the biotechnology company Gilead Sciences. He left that job in 2013 and managed pharmacies in U.S prisons for Maxor until 2016.
Smith was based in Tennessee during that job and says Statesville doesn't feel that distant, calling the downtown stretch a "kind of miniature Nashville."
Blaney, a former pharmacist, met Smith in 2013 while at a pub.
He already had one coffee enterprise under his belt before meeting Smith. Blaney founded Summit Coffee in Davidson in 1998, opened up a few more stores and sold off the business in 2006.
Blaney and Smith chose 110 E. Broad St. in downtown Statesville as the spot for Sky Mountain Coffee's first standalone retail location. Blaney had opened other Sky Mountain Coffee shops in Lowe's Home Improvement offices in Mooresville and Wilkesboro in 2010.
Smith bought the Broad Street property in February 2018; it was the former site of GG's Arts, Frames and Gifts. He says that the nearly 129-year-old building has an interesting mystique to it.
"There's a certain attraction, I believe, in people to go to a historic property," he said. "It seems romantic, but at the same time sometimes you're better off starting brand-new construction than trying to take on (an) old building."
And it has been a slow-going process. Smith originally thought flipping the store into an operational condition would take only 10 weeks. It's now been 11 months.
There is an end in sight. Sky Mountain Coffee received approval from the N.C Department of Health and Human Services on Dec. 21 and got an alcohol license on Wednesday. Now it has to unexpectedly add some extra electrical hardware to the building.
But the delay in opening hasn't changed the store's vision.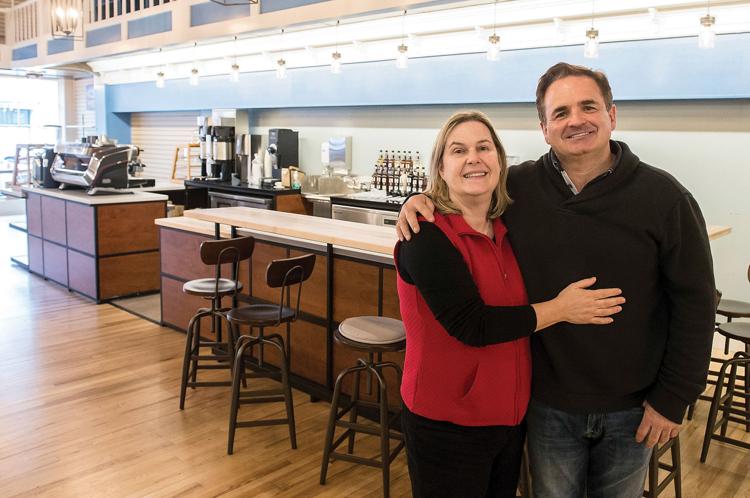 One thing that Sky Mountain Coffee prides itself on is a coffee experience that larger retailers cannot provide, the owners say.
In addition to the store downtown, there is a roastery located on Commerce Boulevard north of Statesville. This is where the coffee beans will be prepared for public consumption.
"The quality of coffee comes from the bean first and how you roast it," Smith said. "We've got the best beans, we've got the best roasters."
The company uses three Diedrich coffee roasters.
"We're able to buy select, high-end small batches that allow you to get something unique you can't get from big chains," Smith said. "You're not going to have something sitting on the shelf for months at a time, ready to be shipped out to someone who eventually gets around to grinding it and serving it to a customer. It's going to be done locally and there's not too many places doing that."
Smith also said that they do not plan on charging more than Starbucks for a cup of coffee, but he does appreciate how the coffee giant has changed the public perception of the beverage.
"When I grew up, coffee was something of a lower-end commodity that you bought off a shelf and you drank it for one reason: it's to pick you up and you certainly didn't like the taste," he said. "I'll have to give Starbucks their due; they really brought coffee into more than just a low-end commodity beverage."
Smith says that Sky Mountain Coffee will open as soon as its electrical issues have been resolved.