For a youth mission trip, several Statesville churches came together to offer assistance to Puerto Ricans, who are still recovering from 2017's Hurricane Maria.
The group spent a week with students and adult chaperones repairing roofs that had gone unrepaired for almost two years.
The U.S. territory is still recovering from the hurricane.
Matt Aschbrenner, one of the adult leaders, said that as the group landed in San Juan on July 14, it could see blue tarps stretched over roofs all over the city.
"The high-rises still had plywood on them. They hadn't even fixed the windows way at the top," Aschbrenner said. "The infrastructure is still like that too, and the way we saw that was the very first 15 minutes we were getting our rental car. They automatically charge you for the tolls because the toll booths are (inoperable)."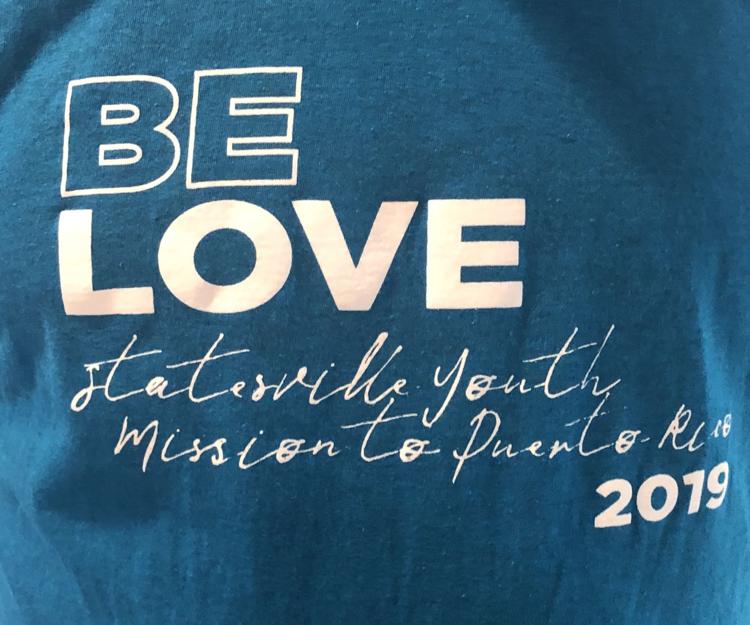 Aschbrenner said some traffic lights were blinking or completely out and some roads hadn't been repaired.
Christina Zanotti, another adult chaperone, said potholes were big enough for tires to get stuck in if drivers weren't careful to avoid them. Zanotti added that she had been to Puerto Rico before the hurricane, and the change was striking.
"When we were there, and we had our time to actually go through the town, it just was awful. Those buildings that were being used a couple years ago were abandoned and left because they (business owners) didn't have (the money) to fix (them)," Zanotti said.
Another chaperone, Lisa McBane said about one out of every three oceanfront hotels had graffiti on it.
"Hurricane destruction is very devastating for the individuals that experience it," McBane said. "I grew up on the gulf coast of Florida, and evacuated many times growing up, taking your pictures and your silver and leaving everything behind and not knowing what you'll come back to. The devastation is something that takes people decades to recover from even when they have appropriate federal help, and Puerto Rico doesn't have that."
Puerto Rico's slow hurricane recovery has affected a huge swath of its population and has been one of several elements creating political tension in the territory. McBane said the territory was still struggling through a 13-year economic recession.
Outrage at messages joking about people who died during Hurricane Maria in a chat including Ricardo Rossello, the governor at the time, culminated into protest, national media reports indicated. These were ongoing as the youth group landed in San Juan wearing matching blue T-shirts that read "Be love – Statesville Youth Mission."
McBane's husband, Bill, also chaperoned on the trip. He said that Puerto Ricans he spoke with were not angry at the federal government but the Puerto Rican government. The owner of the laundromat the group used spoke to him about the territory.
"There was a big frustration among people down there," McBane said. "This is what's underlying the protests, right? I mean, it's that frustration. They're done with it, and they want to see some change."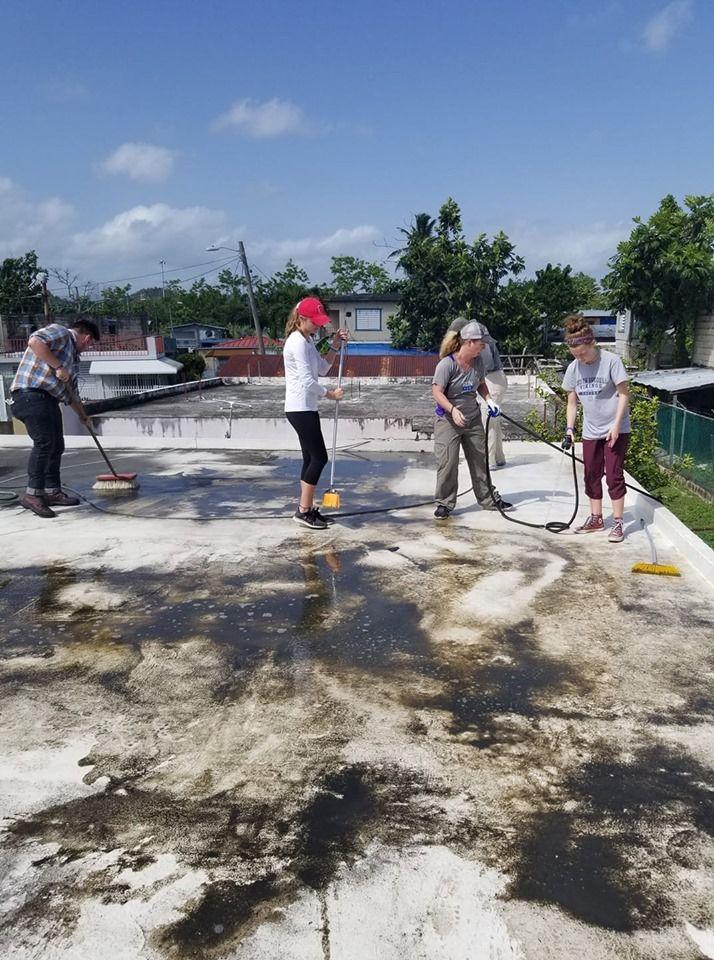 However, the group was never in a situation where it felt endangered by the protests. McBane said he only became aware of the scope of the protests when the group had to end its work early for the day so the social workers who were employed at the camp the group stayed at could leave early. He said that he was unsure whether the social workers were leaving early to get home unimpeded or to join the protests.
"Even if the government was humming along perfectly, even if everything was right in Puerto Rico, that's a decades-long recovery," McBane said.  "The sheer amount of structures that were damaged and infrastructure that was damaged. Even under the best of circumstances, it's a long-term recovery."
Carrilea Hall, a chaperone and the associate pastor of Broad Street United Methodist Church, said natural disasters are hard for everyone, but she believes the high level of poverty in Puerto Rico makes recovery even harder.
Aschbrenner said that in San Juan, there were streets where the buildings would be repaired and freshly painted in bright, eye-catching colors, but standing beside those buildings others could be seen in disrepair with blue tarps.
"Our group could stay there for an entire year and keep on working and still not be done," Aschbrenner said.
Historically, Puerto Rico has been a prosperous island because of its fresh water and deep ports. With its rain forests and pristine beaches, it could be an adventurer's dream vacation, McBane said. And the residents of Puerto Rico are American citizens.
"One thing that bothers me is you talk to people about going to Puerto Rico, and they question you," McBane said. "You say, 'They're American citizens.' Their response, even if it doesn't come out of their mouth, the response on too many people's faces and heads is 'Yeah but.' There is no but."
Aschbrenner said he felt people were mostly grateful for the group's help. When he was with a group of youth three hours after they landed in San Juan, all wearing the same shirt, a man approached them and asked what they were doing.
"We told him, and he just takes his hat off and goes, 'Thank you so much. Thank you. Thank you so much, and I will just say, this is not the States' fault. This is our fault because we have screwed this up,'" Aschbrenner said. "He was so appreciative that we were there helping that when we got our pizza and started eating and I didn't notice, but he disappeared. He came back and brought us two flats of Krispy Kreme donuts."
"You have the option of taking the 10,000-foot view or zooming in to the micro-view. We made a difference on the micro-level," Lisa McBane said. "The human element is more important, and we made a big impact on the human level. If you go to the 10,000-foot perspective, we didn't touch it."
The 49-person group split into five and, over the course of a week, helped 11 families.
Hall said Broad Street United Methodist Church, First Presbyterian Church and Bethel United Methodist Church as well as individuals from other churches joined together to make the trip happen.
"It's one of the great things about a small town is churches can get together and work together," Hall said.
The group partnered with the Evangelical Lutheran Church of America, which has a relief service in Puerto Rico, and stayed at a camp about 45 minutes from San Juan.
ELCA had a list of families in need of mission work.
The groups mostly removed debris and sealed roofs, trying to prepare the homes for the next hurricane season. Two of the groups removed second floors that couldn't be saved and replaced them with roofs.
The people the group helped had been living in homes with damaged roofs for almost two years.
"You can't forget that once something's damaged, and it's not fixed right away, it doesn't just get damaged and stay like that," Aschbrenner said. "Nature takes over, and it gets worse and worse and worse, and the effects of that can be life-threatening or lethal to the people who are near it.
"We saw some of that because there was a family of pigeons that moved into this lady's second floor, and so the pigeons were happy, but there was pigeon crap all over the place, and there was bat nastiness and rat nastiness and all that stuff. There were leaks, so all of that was getting wet and trickling down into the living space."
Aschbrenner's group helped an 85-year-old woman whose husband had cancer.
Lillian Beaty, a youth that went on the trip, described a home with buckets in every room collecting water dripping from the ceiling.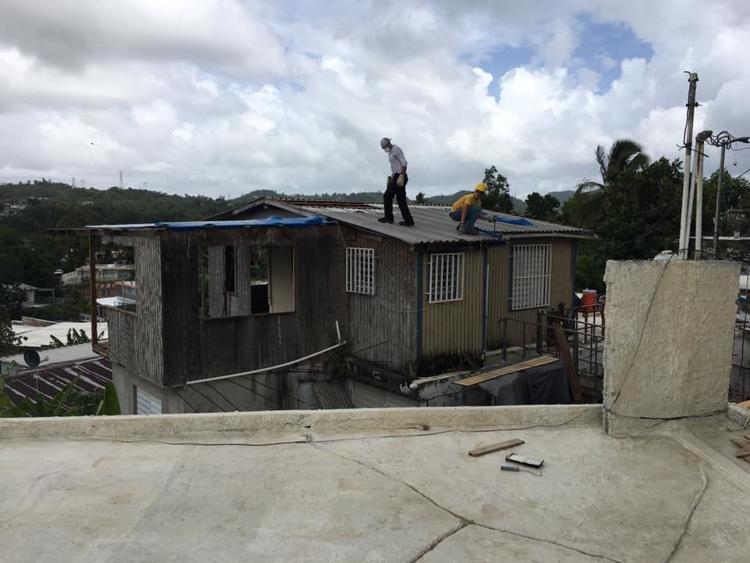 Zanotti said in one of the houses she helped the ceiling was sagging because of how damp it was.
Faced with the overwhelming need, chaperone David Bullins said he thought about a story where a boy is on a beach with many starfish washed up onto it, and he's throwing some back.
Though the group from Statesville couldn't help all of Puerto Rico, just as the boy couldn't help all the starfish, Bullins said the group had made an impact on 11 families. For those families, he says the group's help was life-changing.
"I think it's so much more about – at least a piece of it is – the relationships," Bullins said. "When we left the house, they were just so appreciative that they know someone cares about them. They want their roof fixed, but it's just as much about relationship building."
Lisa McBane said her group helped an elderly widow who needed her second floor removed and roof replaced.
"Her only hope of living out her days as a senior citizen at age 85 was to stay in her home," Lisa McBane said. "That is her retirement plan, so we were able to drive that in for her. Her end-of-days plan has now been secured. Prior to our arrival, it had not been."
McBane said she thought the human element was more important than the structural element.
"When 10 people show up in your house and you're used to living alone, and you spend a week or a day or two, it becomes emotional because the devastation was emotional," McBane said. "The coping is emotional. The repair is emotional. The strangers and the communion with strangers becomes significant."
Several people said dealing with the heat brought a constant struggle.
Adult group leaders made sure the youths they were responsible for drank or sat down if they felt weak. Even wearing long-sleeve shirts and pants, sunburn was hard to protect against.
"It's not easy work. I mean, it's not just hot and sweaty, but you're getting fatigued because you're moving heavy stuff," Aschbrenner said. "These guys were moving concrete by the bucket. Not a crane. Buckets. My group was tearing two-by-fours and two-by-sixes that had been there for 50 years, and they were held with corkscrew nails." 
Hall said equipment is always a big challenge when non-profits are trying to organize mission work. Groups would be doing demolition work with crowbars alone or sharing one crooked Phillips head screwdriver.
Andrew Setzer, a youth who went on the trip, said his group removed concrete beams from the second story of the building he worked on. Someone would drill a hole through it and thread a rope through the hole. Four to six people would then hold the rope, slowly lowering it to the ground.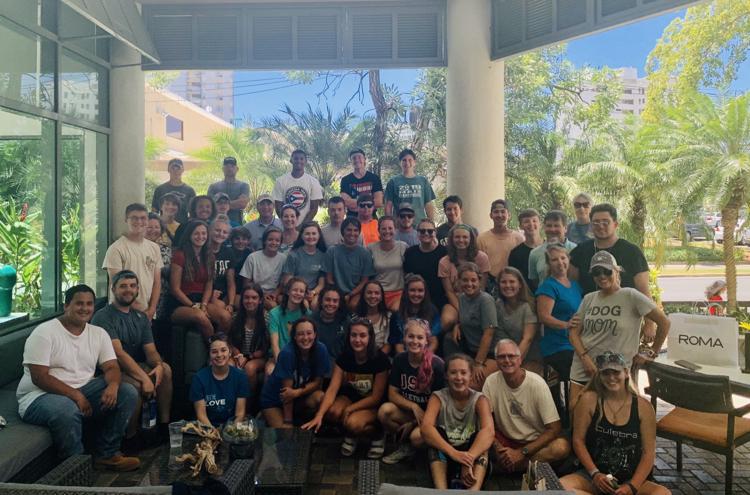 "We calculated a rough guess, but based on the amount of debris and the size of the dump trucks that came to haul it off and what their capability to carry it was, we estimate that at least our little group of kids and adults on our team removed close to 30 tons of debris by hand down that alley one five-gallon bucket at a time," Bill McBane said.
Zanotti said she loved that the youth were able to see the homeowners' reactions to a repaired roof. The families laughed and cried. As happy as they were to have their home repaired, they were sad to see the children go.
"This was a wonderful group of youth that went on this trip. Lisa and I have been with youth trips for years, and I've not had a better group of kids. They worked in incredibly difficult conditions. They were hot. They were tired. I dare say they worked harder than a lot of adults would work in the same circumstances, and they did fantastic work down there," Bill McBane said. "We made a tangible difference, a tangible improvement in the quality of life for those people at 11 different homes, and that's worth it."