Originally destined for the Tampa Police Department, Lord ended up as the first K-9 for the Troutman Police Department.
His service to the Troutman community was recognized at Thursday's Troutman Town Council meeting. A plaque, which will hang in Troutman Town Hall, was presented to interim police Chief Darrin Payne, as two of Lord's handlers — Nathan Lindon, a sergeant with the TPD, and Sgt. Jamie Benge — watched.
Lord, a German shepherd, was put down recently. During his career with the TPD, Lord was partnered with three handlers — Rodney James, Lindon and, finally, Benge. He was Benge's partner until he retired in 2018.On display in front of the council was a portrait presented to Benge last Sunday at the Pet Life Celebration by Pet Pilgrimage of Mooresville. There was also a statue of a German Shepherd and the American flag that was used to cover Lord's body.
"We are saddened," Payne said.
Lindon expressed his appreciation to Pet Pilgrimage for its treatment of Lord after he passed away.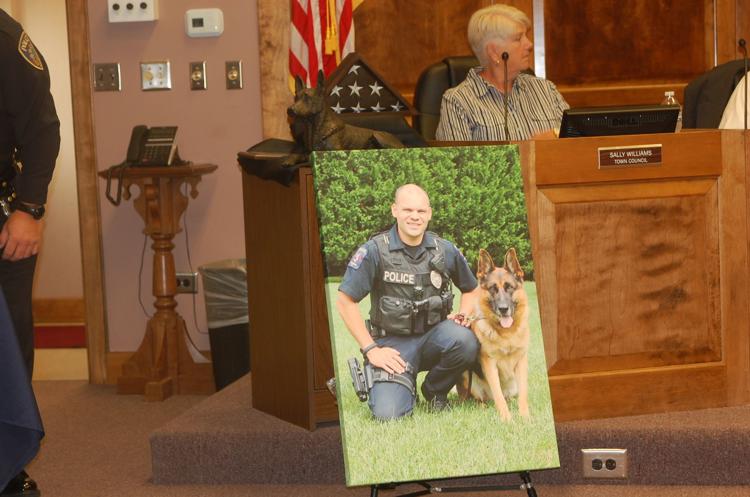 Leslie Reid, director of Pet Pilgrimage, said taking care of Lord was an honor.
Mayor Teross Young also thanked Lord and the Troutman Police Department for their service.
On a brief agenda, the only action the board took was approving an annexation and rezoning request concerning 18.73 acres belonging to Children's Hope Alliance.
The property fronts Old Mountain Road and approximately one-third was in the town's extraterritorial jurisdiction and the remainder was not in the town's jurisdiction. Part of the property was zoned suburban residential and the remainder was zoned residential agricultural under Iredell County zoning.
The rezoning request was to rezone the entire parcel to suburban residential.
The board unanimously approved both the annexation and rezoning.