TJ Brinkman will be celebrating Mother's Day with a new title – college graduate.
Saturday she graduated from the Cato College of Education at UNC Charlotte.
A single mother to a 6-year-old aspiring soccer player, Brinkman, 27, is a substitute teacher at West Iredell Middle School. She describes herself as being full of perseverance, dedication and motivation, and she lived up to that description Saturday.
Getting that diploma was not an easy road for Brinkman. 
"I ran out of money and was not about to be able to finish student teaching," Brinkman said.
On a whim, she applied for the ANSWER Scholarship program and received way more than she expected.
 "I am living my best life at West Iredell thanks to ANSWER," Brinkman said.
"The program has helped me more than monetarily," Brinkman said. "Being a college student and mom is isolating ... ANSWER provided me with a tribe."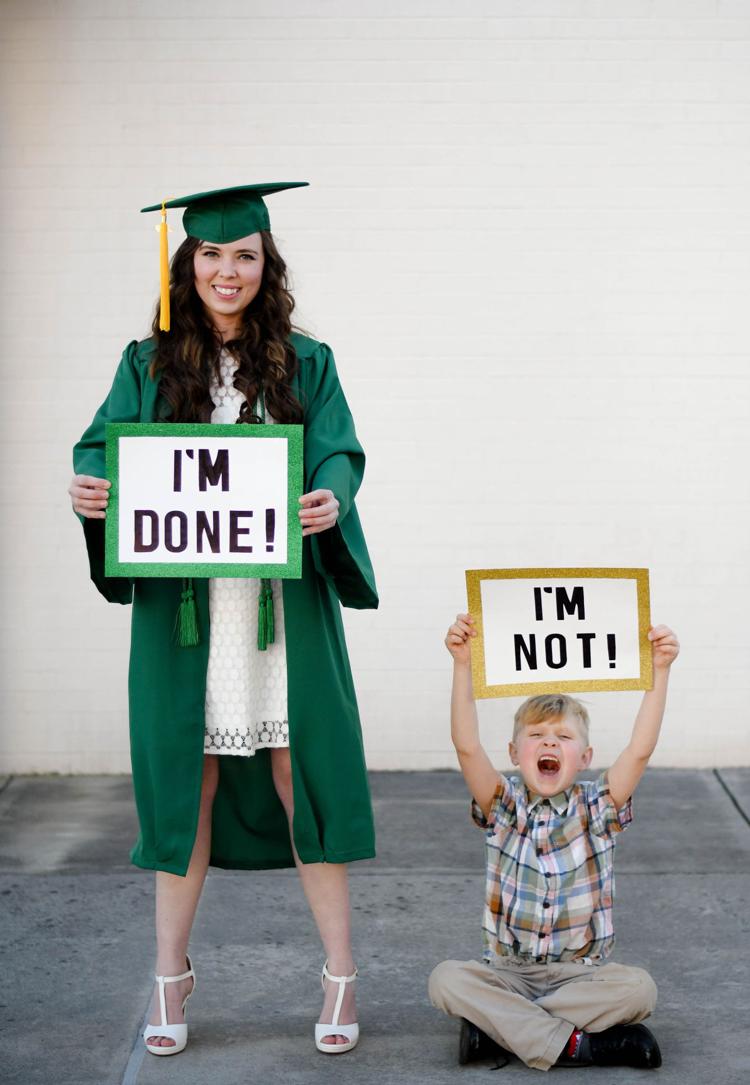 West Iredell Middle School, from staff to students, has been happy to also be a part of Brinkman's tribe.
Principal David Ivey remembered Brinkman from her days as a student at North Iredell High School when he was an assistant principal, and he was persistent to get her on his staff. 
Ivey recalls offering Brinkman the job very quickly, "I don't even know if you got through the door," he said to Brinkman.
All the traits Brinkman described about herself, Ivey said he could see in her interview and continues to see with Brinkman's work in the classroom.
"This was a rough classroom because it was a revolving door of subs ... as soon as TJ came in that settled," Ivey said.
Every Tuesday, Brinkman went to class at UNC Charlotte, leaving her West Iredell classroom in the hands of a sub, which caused Ivey to worry that the students would revert to becoming wilder, but that did not happen, he said. Instead the kids seemed to work hard as a show of support for Brinkman.
"The students don't want to fail TJ," Ivey said.
ANSWER was developed in 2006 to help women raising school-age children to earn a college degree. It caters specifically to women in the Charlotte region and has helped fund almost $410,000 in college scholarships to 81 local moms since 2006.  
The purpose of ANSWER is to help mothers accomplish their goal of a college degree with the help of tuition assistance, a mentor, programs and a network of other mothers, director of the Mentors for Mom program, Martha Honeycutt said. 
 This program has not only shown success for the moms but for the children as well.
 Many moms find that their children's grades and behavior improve while they are going through the program, Honeycutt stated.
 "Educate a mom, educate a family," Honeycutt said.
 The support of programs like ANSWER can help moms and their families excel in many ways.
 "Women who don't have support have a 39-percent chance of graduation (for non-traditional students) [and an] 80 to 85 percent chance with ANSWER," Honeycutt said.
Brinkman, a substitute teacher is already making a lasting impression on her students. She uses inventive tactics to relate and cater to all of them.
Brinkman said she likes to leave notes for her students about what they might be good at based on the skills she sees in the classroom, continuing to encourage them to think outside the box.
 "I am here to inspire students to be good people," Brinkman said. "I was called [to do this work]… it was not a thought, it was a feeling."
 She can also relate to her students as she is learning while she is teaching, telling her students, "We are learning this together."
 Brinkman's exceptional ability and self-awareness has led to her receiving a permanent teaching position at West Iredell Mitchell effective Aug. 1.
 "I have already made her commit to seven more years," Ivey said.
 With Brinkman's graduation and teaching job secured, she is most happy about being mom.
 "I am going to be a mom, a real one," Brinkman said, as her son, Eric, has been raised in part by her sister and mom to help with her studies.
"All of Statesville should know that you can be where you want and accomplish your dream," Brinkman said.