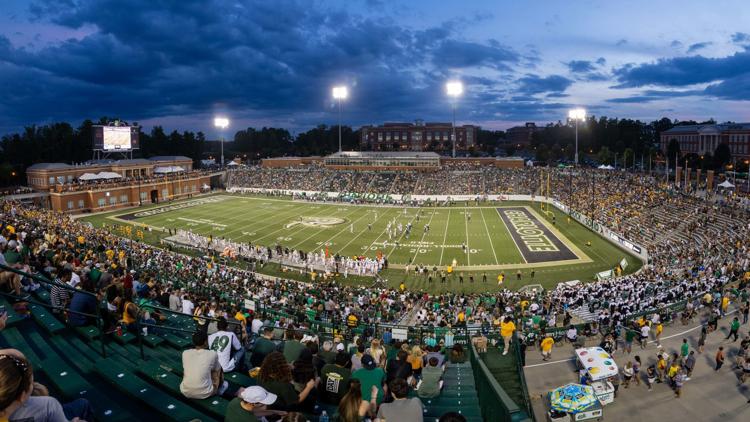 It's 2028. Charlotte, having found its footing as a football program, rolls into Boone to play Appalachian State. The schools have traded victories the last two years, each winning games at home, but this is the tipping point. Charlotte finds a win at Kidd Brewer Stadium and changes things forever.
My God, the fury. App State fans blow up message boards. They question the Mountaineers coach. They wonder how this even happened.
The answer is simple: Little Brother finally grew up, and the parity to boost this regional matchup has finally been willed into existence.
This is the only way a rivalry can be born in this college football landscape.
Now come back to reality, App State fans. Calm down a little bit. Things still have a long way to go. But this future is the hope of what the schools set out to achieve when the programs started playing last year.
App State and Charlotte met for the first time last season in the Queen City, which is home to thousands of Mountaineer alumni. According to the university's alumni website, approximately 9,000 Appalachian graduates live in Charlotte, and it showed for the matchup at Jerry Richardson Stadium: a program-record 19,151 watched the 45-9 App State victory on Sept. 8, 2018.
Seven months later, App State and Charlotte announced they would play four games in four straight years. Unfortunately, the first game won't happen until 2026. With college games being scheduled so far in advance — App State, for example, doesn't have a nonconference opening until 2024 as of right now — it's the best the two could do.
Athletics Director Doug Gillin of App State said in the joint news release that "regional games just make sense." His Charlotte counterpart, Mike Hill, said it was such "a natural rivalry." Now obviously, it's not there yet. But it could get there. And if you need proof, just ask Coach Will Healy of Charlotte.
"I mean to think about a game being scheduled in 2026 is amazing — so a lot of that has been done for a long time," Healy said on Tuesday. "I'm always very careful before I call somebody a rival.
"I mean, it's our job to make people become rivals. Until we beat somebody, they're not a rival for us, you know? They don't consider us a rival right now because we've never beaten them."
The interest from fans is part of the reason this could work. Now, the tradition just has to catch up. App State has it. Charlotte doesn't. That's just a fact. The 49ers program started in 2013, and it's never had a winning season.
But Healy is an energetic coach who, it seems, got there at the right time. And he hopes to get some of the local talent to stay around the greater Charlotte area.
"I mean I think, and obviously for me I've always said, we got to beat people in recruiting that we've got to beat on the field," Healy said. "I mean great players make great coaches.
"But I think we're both looking for the same-type-talent level. I think where we've got to make a niche for ourselves is we have to have a player who's confident enough in themselves where they'll step out and make an unpopular decision become a popular decision."
After Saturday, App State-Charlotte will have had only two installments. This is the groundwork for the chaos above. By the time these two programs play again, who knows where each program will have been.
Healy and Coach Eli Drinkwitz of App State might have moved on to Power-Five jobs. The Mountaineers might have finally cracked into a New Year's Six bowl game. The 49ers might have held onto Charlotte's best athletes and become a Conference USA contender.
Or maybe the two are compatriots in a newly formed conference that capitalizes on the quality Group-of-Five schools in the southeast?