Larry Ogunjobi was at a drive-through when he called this morning, the car door dinging as he took his order and drove off into the busy streets of Pensacola.
He's a long way from Greensboro and a long way from Cleveland these days, but like the rest of us, he's just trying to stay safe.
Ogunjobi is training with a few other NFL players, practicing football in the Florida sun while practicing social distancing in a state that has yet to embrace the concept.
"Not everyone gets it," he said.
The former Ragsdale and Charlotte defensive lineman is in his third offseason from the Browns, and he already knows this will be unlike an offseason he has ever experienced. He's not complaining, though.
"I'm blessed," Ogunjobi said. "I've been given a lot."
And he has been giving back a lot, too.
Like most NFL teams, the Browns are active in community relations, not the kind of photo ops you see with so many sports teams and players. Just recently, the owners gave $1.5 million to Ohio relief funds for COVID-19, and Ogunjobi wanted to get involved, too.
"There are kids up there who aren't going to eat now," he said. "I thought about giving $10,000 but then our community relations director Jenner Tekancic told me that for a dollar, you can provide a kid four meals. Think about that. So I decided to give them 100,000."
It was a stunning gesture that Ogunjobi announced in a Tweet that is still resonating.
In light of the current circumstances, many people across the world need our help, especially children. I am supporting my local community in Cleveland by donating 100,000 meals with @clefoodbank.
Please join me in lending a helping hand and support @feedingamerica. pic.twitter.com/lJYiUqUVEE

— Larry Ogunjobi (@Mr_Ogunjobi) March 20, 2020
"I'd worked with the Cleveland Food Bank before," he said. "They do great work in Ohio, and I remembered growing up myself and thinking about how some kids might not get meals if it weren't for school."
He grew up here, big for his age with impeccable manners and a huge heart. Ogunjobi is truly one of the nicest guys you will ever meet. Which made it all the more interesting when he was involved in the fight between the Browns and the Steelers last season, a skirmish that landed him on suspension for one game.
He said at the time it was all about coming to the aid of a teammate.
"I feel like if it was you and your teammate in that situation, you would do the same thing," Ogunjobi said. "I will probably get a suspension for it, but at the same time if someone is going to come at my teammate, that's my brother."
The league fined him but later rescinded it.
A month later, Ogunjobi was dressing up for Christmas and handing out presents for underprivileged children in Ohio.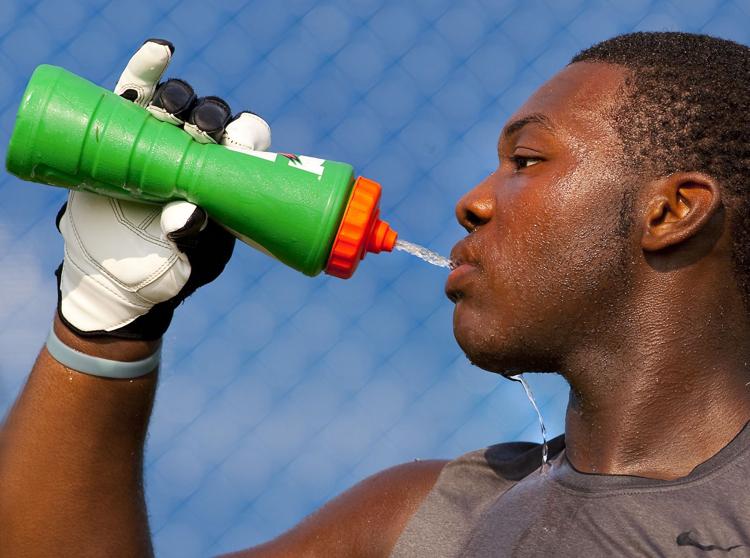 "I've not forgotten that it wasn't all that long ago that I was just a big kid from Greensboro," he said. "No matter what happens, I know God has provided for me. So the suspension happened. I take it one day at a time."
He doesn't compare that one week away from football to the current climate in sports. There is no comparison, he said.
"We're in the dark now," he said. "That was different."
He hasn't been in Cleveland for a few weeks now, and he hasn't been in Greensboro since January. But his mind is on his family back home and the kids in Cleveland these days.
Driving around Florida, where Ogunjobi said people are still slow to understand the severity of the situation, he's trying to take care of himself and treat this as a typical offseason, which he knows deep down that it isn't.
"We're all a part of this," he said. "It's time to take this seriously."
He's serious about everything he does. Just three years out of Charlotte and a decade from being just a big kid from Greensboro, Larry Ogunjobi is a giant of a man in Cleveland.