CHARLOTTE - Mack Brown went back in time Saturday, returning to the sideline to rekindle a program that once won games like this all the time.
North Carolina defeated South Carolina 24-20, reversing an outcome from 31 years ago and restarting Brown's coaching career.
Brown took a shell of a football team left over from last year and knocked off an old rival and an old coaching friend. He also cast out a demon, a man in black, who told him all those years ago that his team was no good.
People had been telling North Carolina that for years, and the players believed it. Saturday's win was as important as it was shocking. And while most of Carolina's fans seemed to be at the beach, the Heels sent South Carolina's fans home in disbelief.
"We're better than perceived," Brown said.
North Carolina started slowly and cautiously with a true freshman at quarterback for the first opener in school history. The game matched two old friends, Brown against his coach in waiting at Texas. Will Muschamp seemed to know most everything Carolina was going to run, and UNC seemed to anticipate everything South Carolina wanted to run.
But as South Carolina played carefully and without imagination, Brown turned his freshman loose. Sam Howell found receivers roaming in the Gamecock secondary, and Brown opened the playbook for his skill players.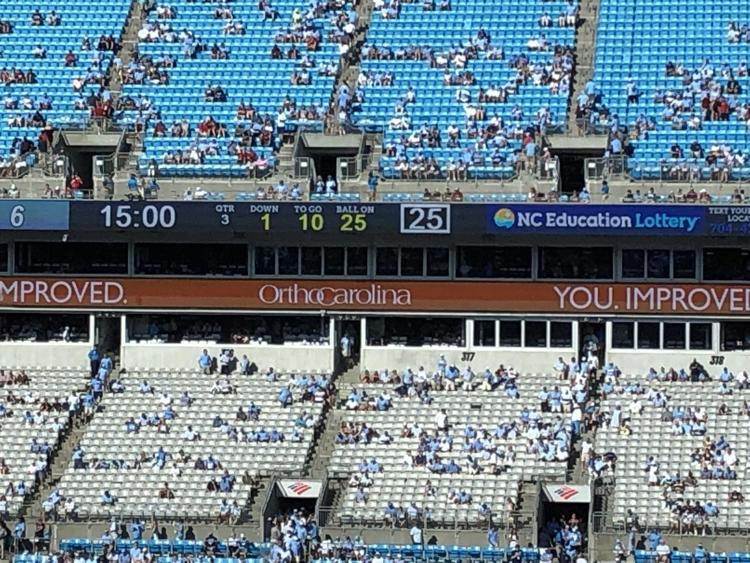 Like an old machine sputtering back to life, North Carolina suddenly ignited and blew past the Gamecocks like they were standing still. The final minutes brought back memories from long ago as a smattering of fans drowned out the South Carolinians then stood in the aisle and sang James Taylor songs.
"Very emotional," Brown said. "These young people have had a lot of bad things happen to them the last two years.
Back in 1988, when black-clad Joe Morrison was the coach at South Carolina, Brown took his first team to Columbia for his first game at UNC. Morrison's team overwhelmed young Brown then afterward met the Carolina coach at midfield.
"After the game he said 'You really have a bad team'," Brown said this week. "I said 'Thanks Coach, I was fully aware of that before I got here, but this reinforces it'."
Brown turned the table Saturday, meeting his old assistant from their national-title days at Texas and embraced. Brown told him the opposite of what Morrison told him 31 years ago.
"I said 'Will you've got a really good team and it's hard for me to feel as good about this as I want to, because you know I'm pulling for you to win."
Muschamp bemoaned the missed opportunities, particularly after South Carolina seemed on the verge of putting away the Heels in the second half.
"We had the game in the balance at 20-9," he said.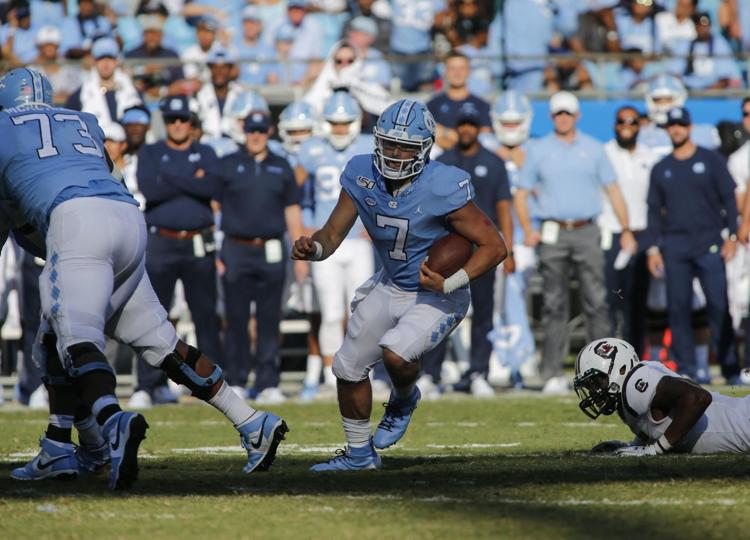 Then he let Brown and the Heels slip away, not making adjustments as Brown changed everything.
In the second half, UNC outgained South Carolina 285-101 in total yards, wiped out the deficit and scored the last 15 points of the game.
When it ended, Brown stood in the middle of the field surrounded by cameras and old friends. He stayed there a long time, one of the last to walk into the locker room.
"It was wonderful," he said. "I don't usually throw my hands up and sing fight songs, but I felt like I should."
Brown is back, and Carolina has already done more than anyone thought it could. The program is still light years from where it once was, back when he was here before. But for one day, in a reversal of a loss and a slight three decades ago, Brown stood in the middle of the field, raised his hands and sang songs.
The Heels are better than perceived, and Mack Brown coaches like a young man again