GREENSBORO — Ever since interim coach Will Jones took over N.C. A&T's basketball team in late December, the buzz around the Aggies has been about their faster pace of play, their uptempo offense playing free and easy.
Turns out the Aggies can play defense, too.
And Monday night inside a sold-out, loud Corbett Center, A&T beat the MEAC's best defensive team at its own game.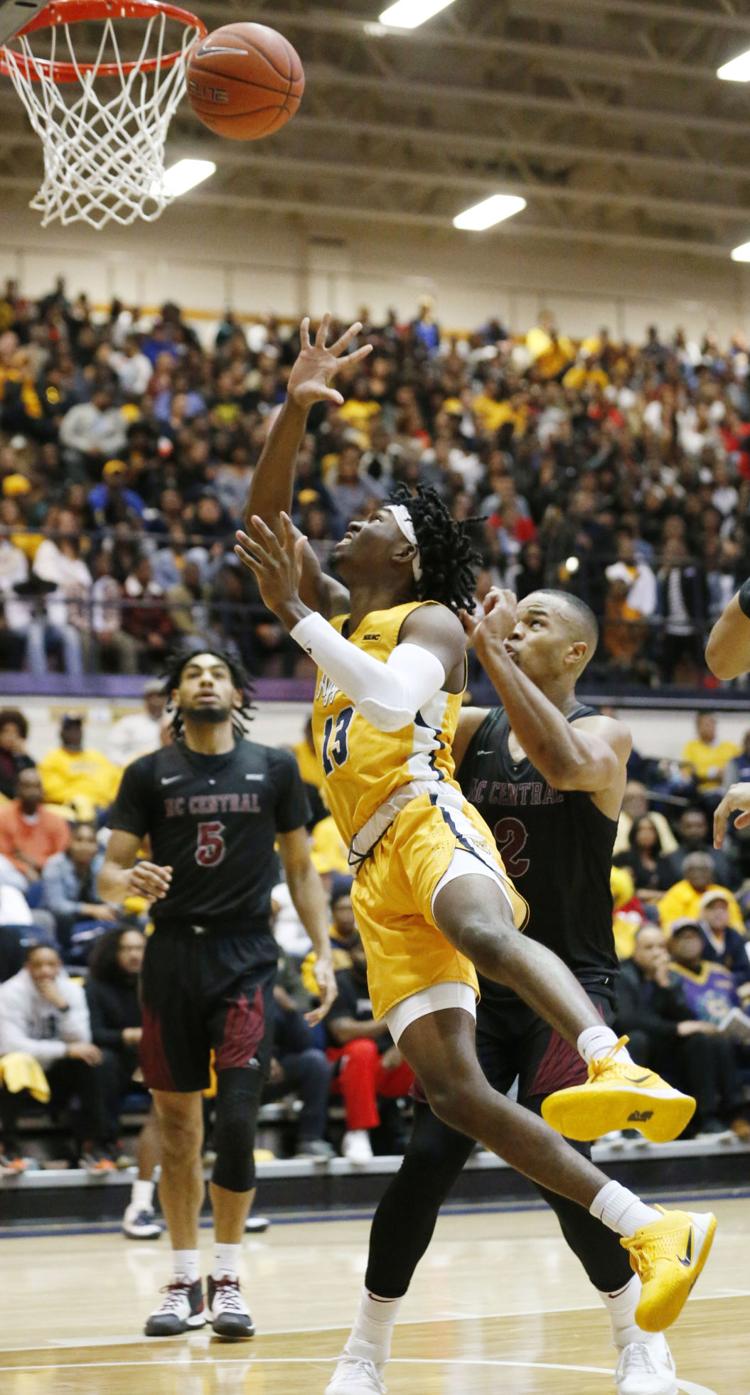 Ron Jackson scored 28 points and grabbed eight rebounds, and point guard Kam Langley notched his second triple-double of the season with 13 assists, 12 points and 11 rebounds, leading A&T to an impressive wire-to-wire 77-60 victory over rival N.C. Central.
Central (8-3 MEAC, 12-13) came to Greensboro with the No. 1 scoring defense in the MEAC. But the Eagles got blown out of Club Corbett early when A&T (9-3, 13-14) started the game on an 18-2 scoring run in the first 6:52.
The Aggies' defense fueled the run.
Central had four turnovers in its first five possessions. The Eagles missed six of their first seven shots, 12 of their first 17.
"This time of year, that's what it has to start with, with us defending first," Jones said. "If we defend, if we make teams struggle to score, it benefits us. We've got guys with length and athleticism, and those guys can defend. We've spent a lot of time working on some zones to use here and there, but I told our guys, 'We can guard anybody in this league man-to-man.' The guys really responded tonight in guarding Central. They (Central) traditionally wear people out man-to-man, but our guys did a heck of a job."
Just look at the matchups, especially inside.
Jackson, a 6-foot-8 senior, outscored his man, Central center Justin Whatley, 28-0. A&T's center, 6-8 Devin Haygood, scored nine points on 4-of-7 shooting, but his best work came on the defensive end, where he drew the assignment of guarding 6-8 Jibri Blount, the MEAC's No. 2 scorer and No. 3 rebounder.
"Dev does a really good job for us in post defense," Jones said. "We knew that Blount was going to try to get the ball inside, and Haygood really neutralized him because (Blount) doesn't score as much over size."
Blount finished with eight points on 3-for-11 shooting. Every time he touched the ball, Haygood or Jackson was there, and A&T sent a second defender to help. On one possession, 6-foot guard Kwe Parker came to help from the back side and swatted Blount's 3-footer from the baseline eight rows deep into the student section.
"Coach Jones told us this game had to start with defensive intensity," Langley said. "(Central) really don't have a lot of scorers, just one big scorer, really. So we keyed on (Blount) and packed the paint."
With Blount neutralized, this was a butt-kicking from the opening tap to the final horn. And the announced crowd of 5,700 ate it up.
It was A&T's 23rd consecutive MEAC victory inside Club Corbett, their fourth home win in a row over Central.
"It's electric in here. I love playing here. Love it," said Jackson, who transferred into A&T from junior college before last season. "This was really my first true Aggie-Eagle Classic, because last year we played them here when we were on spring break. There were still a lot of people here, but it's nothing like tonight with (the A&T students) here. You just have this feeling that you're not going to lose. The fans bring it. And then we bring it. It's awesome."
And it was a tonic for A&T, which was coming off back-to-back road losses on its Florida trip to Bethune-Cookman and Florida A&M. The Aggies were fighting the flu during the trip, and Langley sat out the game in Daytona.
A&T had a badly-needed open date Saturday before playing first-place Central on Monday.
Jones gave his team a break after the Florida swing, a few easy days before buckling down Thursday with the hardest practice of his tenure.
"It's a long season. You look across the country, and everybody's feeling it," Jones said. "We got back from our Florida trip after losing two games, and I spent some time looking around at other leagues. LSU was in first place (in the SEC), and they lost three games in a row. Winthrop was in first place (in the Big South), and they lost two games in a row.
"So instead of coming back and getting on our guys, I just thought we needed to get back in the gym and let them have fun. We played a lot of one-on-one Tuesday and Wednesday to kind of get guys feeling good about themselves. And then we really got after each other in a tough, tough practice Thursday. Because that's what it's going to take to win down the stretch. If we can stop people, I know the offense is going to take care of itself. We have numerous guys who can score. So we need to lock in and make it tough defensively."
The Aggies have four games left in their regular season. They enter the homestretch in second place, a half-game behind Norfolk State (9-2, 13-13). A&T holds that tie-breaker.
A&T and Central close out the regular season in Durham on March 5.