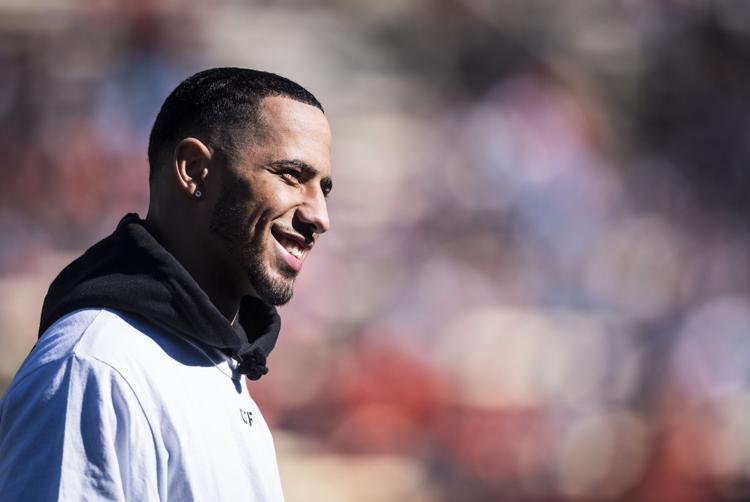 There's only the slightest hesitation, then the answer comes firmly.
Were the first eight games of this season the most frustrating time of your football career?
Cincinnati lost each of those first eight games, had its off week, and then lost three more on its way to a 2-14 finish that will have it picking first in the NFL draft.
For Bates, a second-round pick in 2018 who has started every game in his two seasons, the lack of team success wore him down.
"The first eight games of this season were very, very frustrating," Bates said. "I had to change my mentality about how I was coming into work because I know when you're not having a lot of success, that brings out your character.
"Some guys back down from the challenge, I tried to step up to it and you've gotta figure out a way how you're not going to be the reason for why we're losing, pretty much was what my mindset was."
Bates had all three of his interceptions in the second half of the year, which still came in under his season goal of five. He had 100 tackles, meaning he's hit triple digits in each season, but said he was displeased with how many missed tackles he had.
"I tackled really well in the first season, and then the second season, I felt like I fell off a little bit," he said. "That is the two main things that I'm really focused on, be that turnover guy that I've been for years and continue to make tackles."
It wasn't all doom and improvement for Bates this past season, though.
Bates and his mother worked with the Sheakley Boys & Girls Club of Cincinnati to bring four single mothers and their children to the Bengals' Week 5 game against Arizona as part of his Single Mother's Initiative. The families rode to the game in a limousine, spent time with Bates in the tunnel before the game, watched the game in a premium suite and after the game went to dinner with Bates.
"It was just really cool because I remember — my first NFL game (as a fan) was with my mom," Bates said, adding that coincidentally it was a Bengals game for the Fort Wayne, Ind., native.
Bates was raised by a single mother, Theresa Ladd, who shuttled him among football, basketball and baseball practices and games, all while working to support him, two siblings and three step siblings.
"She did everything, as far as working two jobs, you know, even three sometimes, around Christmastime so we could have that Christmas," Bates said. "That's part of it, that's something I'm very passionate about off the field just because I saw how my mom worked and I know that's a lot of people's situations that they're in, guys that I can relate to."
After next season, Bates will be eligible for an extension on his rookie contract — something on his mind as he sets goals for the season. Also on the docket for next season, though, is another Single Mother's Initiative for a game and the addition of a shopping spree for single mothers around the holidays.