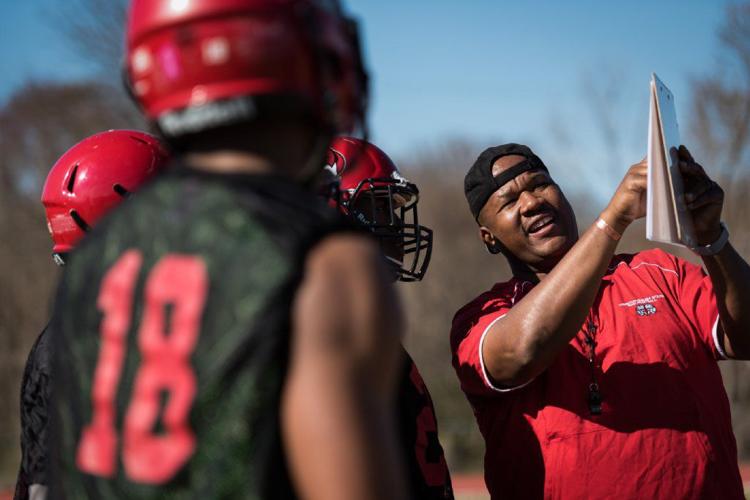 Kienus Boulware has been relieved of his duties as football coach at Winston-Salem State.
The chancellor's office released a statement at around 1 p.m. The announcement was made after the players were told in a short meeting held on campus.
"Winston-Salem State University has provided head football coach Kienus Boulware with a notice of its intent to dismiss him from employment for cause," the statement read. "Mr. Boulware has the right to appeal his dismissal within 30 days; per university policy he has been suspended with pay pending the exhaustion of his right to file an appeal."
Boulware, speaking through his lawyer, Jones Byrd Jr. of Crumpler, Freedman Parker & Witt, released a statement on Friday afternoon. He said in the statement he will start the appeal process right away.
"It has been my honor and pleasure to coach the football team at Winston-Salem State University for the past nine years, including the last five as the head coach," Boulware said in the statement. "While we have enjoyed a great deal of success on the field during that time, my greatest achievement and greatest honor has been watching our fine student athletes mature and grow into fine men.
"I have always acted with the best interest of my student athletes at heart while preserving the integrity of the university. I respect the administration of this fine university, but strongly disagree with my termination. I intend to appeal the university's decision so that I can continue to represent Winston-Salem State University as its head football coach."
The university has named assistant Robert Massey as interim head coach.
Rumors began circulating Wednesday regarding Boulware's job status.
Boulware, 45, said earlier in the week that he was still the coach at WSSU, telling the Journal on Thursday that there was nothing he could say.
"I'm still the coach here at WSSU," Boulware said Thursday afternoon.
When asked further about his status, Boulware said, "I will not resign, and that's all I'll say at this point."
Boulware, who has been the head coach for the last five seasons, will not get to finish the two years he has left on his contract. Boulware's contract runs through June 2020. The contract pays him around $130,000 per year plus bonuses, but according to the statement released by the university, it's likely the school will not have to pay out Boulware's contract if there is just cause for his firing.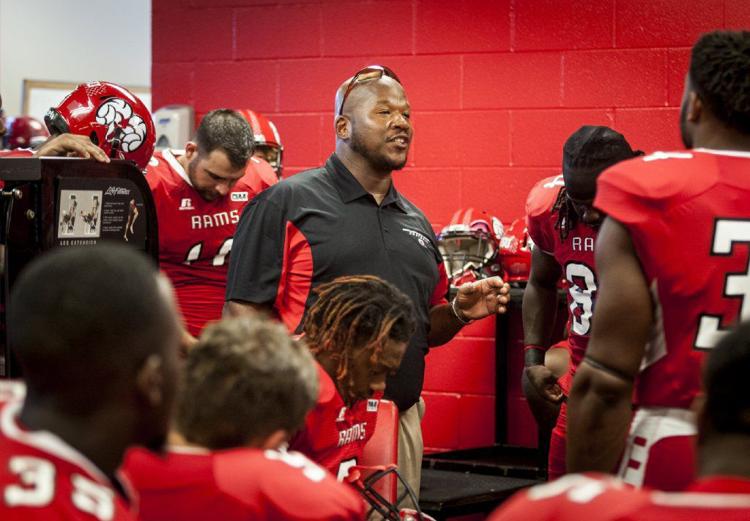 In his five seasons as head coach, Boulware went 35-18, but in the last two seasons, the Rams did not play for the CIAA championship after failing to win the Southern Division. Before the 2017 season, WSSU had won the division six straight years.
The Rams are coming off a 5-4 season and lost key players to graduation such as running back Kerrion Moore, linebackers Pat Green and Jayron Rankin and defensive linemen Jarrell Bright, Tyron Roberts and Jack Nimmons.
Rankin, who was reached by phone just before the team meeting, said he was not going to the meeting.
"All I've seen is what HBCU Gameday reported, but there was nothing concrete," Rankin said. "All I know is I loved playing for Coach Boulware, and he means the world to me."
Boulware won CIAA titles in 2015 and 2016. The Rams went to the NCAA Division II playoffs in 2016. Their season ended with a 48-41 loss against Long Island Post in the first round.
Boulware was one of the longest tenured coaches in the CIAA, first arriving at WSSU in 2010 as part of Connell Maynor's staff. Boulware was the defensive coordinator for four seasons before he was promoted to head coach after the 2013 season when Maynor left for Hampton.
Boulware was the defensive coordinator in 2012 when the Rams went 14-1 and lost to Valdosta State in the NCAA Division II national championship game.
Boulware's first season as head coach came in 2014. WSSU lost to Virginia State in the CIAA championship game to finish 9-2, and it missed out on the playoffs.
This spring Boulware ran the defense as the coordinator after Todd McComb left two days before spring practice started to be an assistant at North Carolina. The Rams also cancelled their final spring scrimmage because of foul weather earlier this month.
Bill Hayes, a former football coach at WSSU, was the athletics director who hired Boulware in 2010. Hayes, who retired from WSSU in January of 2014, said there was no question that Boulware had the best interests of his players.
"He's a good family man who really loves those kids and he does it clean and by the book," said Hayes, who won nearly 200 games combined as a coach at WSSU and N.C. A&T, "but I guess the (wins) just weren't there."
There have been several complaints from WSSU fans and alumni, mostly on various social media platforms, that Boulware's style wasn't fitting in with this generation of players.
According to others close to the program there have been some discipline problems within the team that did not go reported to the university.
At the end of last season, George Knox, the interim athletics director and a WSSU graduate, said he heard from plenty of fans.
"We do hear from the fans, and they are disappointed," Knox said in November. "But our fans are still supportive, and our fans are always supportive. We just want to give them a better product than we had this year."
After beating Fayetteville State in the final game of the 2018 season, Boulware was asked about his future.
"I'm just hoping that when my time expires here, whether it's on my own or not, that I've left the program in a better position than I found it," Boulware said.
Boulware, who is from Thomasville, was an all-state linebacker who played at North Carolina under Mack Brown. When Boulware was at UNC, he suffered a career-ending injury. Brown, however, kept Boulware on scholarship, and he became a graduate assistant coach.
After graduating from North Carolina in 1997, Boulware had assistant coaching stops at Livingstone, N.C. Central and Shaw.
In his 22 years in college coaching Boulware has been part of nine CIAA championships and has a 174-70 record combined as an assistant and head coach.
Earlier this week, Boulware said, "I've been in this profession a long time and have been successful, and I plan on being successful again down the line."
Photos: Coach Boulware through the Years