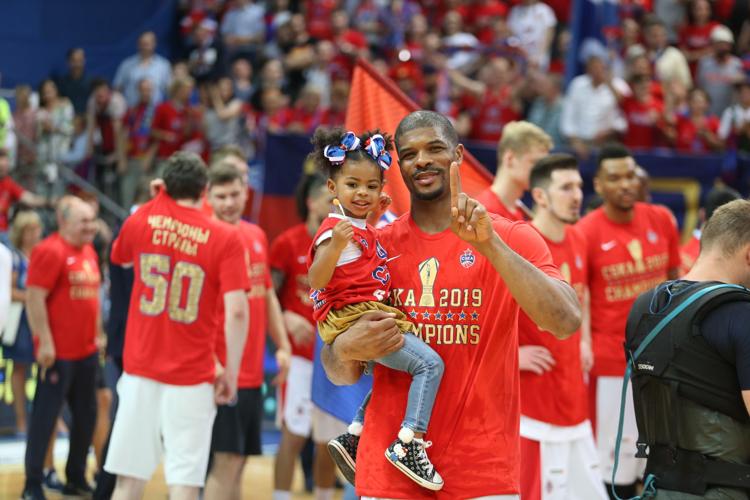 Former UNCG standout Kyle Hines has had a record-setting basketball career. The 2007 Southern Conference Player of the Year, Hines finished his Spartans career in 2008 as the school's all-time leading scorer and rebounder, but was not drafted by the NBA.
The 6-foot-6 center has spent the last 11 seasons playing in Europe and recently became the first American to win four EuroLeague championships when his CSKA (pronounced CHESS-kah) Moscow club claimed the title. CSKA also won the Russian championship this year and recently claimed the title in the VTB United League, which includes teams from Russia, Belarus, Estonia, Kazahkstan, Latvia and Poland. He will be back in Greensboro from July 19-21 as part of Team Hines for The Basketball Tournament's Greensboro Regional at the Fieldhouse.
On the night he helped his club complete the treble (three titles in one season), Hines spoke by phone with the News & Record's Joe Sirera about his experiences in Europe:
Q: Your club won the Russian championship, the EuroLeague title and the VTB United league championship. How special has this season been?
A: Man, it's been an amazing year and I guess they're calling this the golden year. It's the treble, as they call it in soccer. Very special.
Q: What's on your agenda before The Basketball Tournament?
A: Just get back home, first of all, and get a chance to see family that we haven't seen in the past 10 months, get our kids acclimated to being back home and just get a little bit of time to kind of relax. … Ten months here is definitely grueling, not only for me but also my family. All the traveling we do and all the things that we do … it will be nice to get opportunity to kind of get some time to relax for the next couple of weeks.
Q: After 11 seasons in Europe does it does it feel like home when you come home? And where is home these days?
A: I live in Sicklerville, New Jersey, pretty much where I grew up. During the year, Moscow feels like home because we've been here for so long and we're so comfortable here. We've made our own little lifestyle, our own little home here. Toward the end of June we start feeling excited to get back home to our friends and family. We have so much stuff planned for the summer. It still does feel like home, but the first week or two is a little bit of an adjustment period for us because we're so used to being in Russia, so used to being in Europe that we almost feel more European than we do American sometimes. But after we get home and get adjusted, we get right back into the swing of things.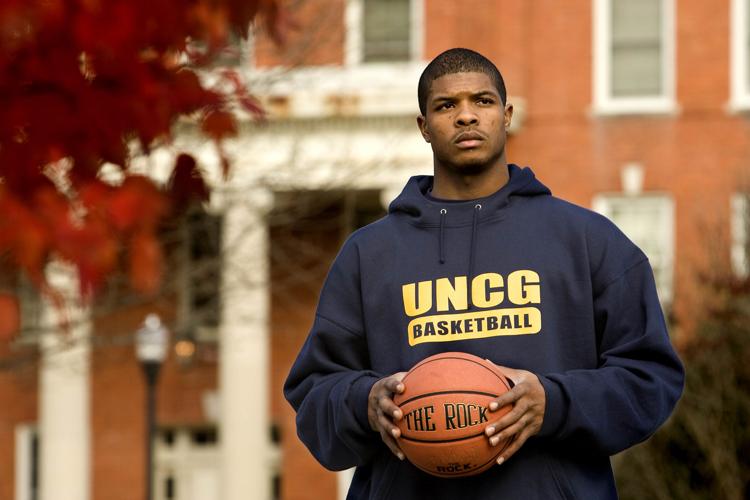 Q: When you left UNCG, what did you think the next step in your basketball career would be?
A: Just like many other American collegiate players I wanted to go to the NBA. That was my dream, that was my goal since I was a little kid. Obviously, that wasn't the plan that was for me. I had some opportunities, but I wouldn't trade the path that I've had the past 11 years for anything. Me coming to Europe and being able to play over here has afforded me so many other opportunities that I wouldn't have had, as well as opportunities for my family and close friends. It opened my mind up on and off the basketball court and allowed me to see things I never would have imagined or dreamed of growing up. … We drive past Red Square like it's your local convenience store. ... People save up their entire lives to come to these places for a week. I'm fortunate enough to be able to live in these places for long periods of time.
Q: What was the biggest adjustment you had to make on the court?
A: The mentality here about basketball. In America, everybody is more or less athletic, so people rely more on their athletic skills and their isolation skills. In Europe, it's more of a team game, more of a collective game. You're making reads on what the defense is doing. That was the biggest adjustment. When I was at UNCG, I was physically better than everybody and more athletic than everybody. When times got tough I would just put my head down and drive to the basket or try to make a play. Those things you're just not able to do in Europe because the defenses are a lot more sophisticated. Players are a lot more heady and have a stronger basketball I.Q., so you're reading the game. ... It was almost like me having to become a student of the game and sit down and actually learn how to play basketball instead of playing without thinking.
Q: When you were playing in the second division in Italy, did you ever imagine yourself being the only American four-time EuroLeage champion?
A: Not at all. I recently saw an old tweet of mine from 2009 when I was watching and live-tweeting while watching a EuroLeague game and saying, "Man, I wish that one day I'll be able to play at this level." Looking back, even though it was an aspiration of mine to play at the highest level it seemed so far from where I was.
Q: When did you know you were going to spend your entire career in Europe?
A: Maybe my fourth season, when I got to Olympiacos in Greece. Up to that point, I still had in my mind that everything was still geared toward me going back and having an opportunity to play in the NBA. I was still playing summer league and still doing mini-camps, still being a pest to my agent about what opportunities might open up on NBA rosters. Once I signed with Olympiacos and saw the caliber of players there and the high-level team that was there, I saw, "I can actually make a niche for myself and have a great career for myself and my family over here." Living in Athens, Greece, and playing for one of the most famous teams in Europe opened my mind up to a lot of different things. Being there, I met a lot of older, more experienced players — both American and European — who'd had long careers overseas and have success for 10, 15 years in the EuroLeague. That's when I kind of realized that this is a big opportunity that I have in front of me and I should take advantage of it.
Q: Why have you been so successful in Europe?
A: I wish I knew so that maybe I could bottle it and do a how-to book or something. Part of it is a little bit of luck, part of it is I've been fortunate to have a lot of great teammates, a lot of great mentors, a lot of great teams. I fell into a lot of situations at just the right time. I came to Europe when "small ball" wasn't really popular and undersized centers weren't necessarily popular. I came through that transition and was able to find my niche through that transition to small ball, position-less basketball.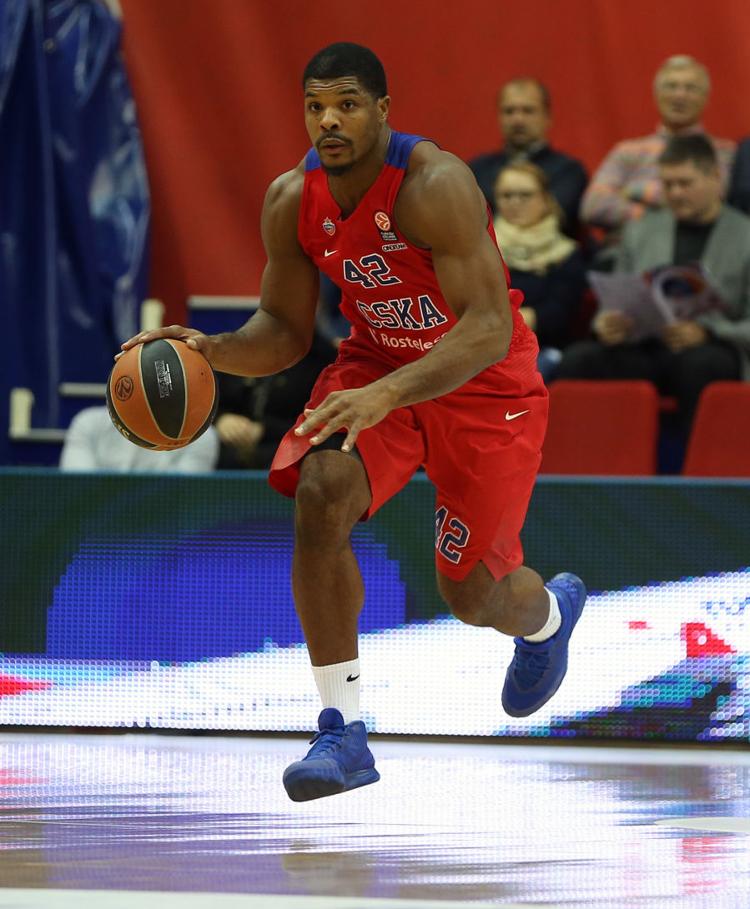 Q: Did it help having your younger brother, Tyler, in Europe for seven years? Did you ever play against each other as pros?
A: His first year we lived together in the same apartment. It was my second year in Greece and his first year overseas. Just having him there and going through it together, the ups and downs throughout the season, definitely was great and we can share and relive those memories forever. We played against each other one time, and that was his best game. My teammates were joking with me that he was out there trying to kill me. There was one play where I got the ball and shot-faked and he literally jumped over me trying to block my shot. We have a lot of good pictures from those moments and that game.
Q: Was it hard to let go of the NBA dream?
A: Initially, it was difficult, very difficult, going through that process and realizing that your childhood dream isn't necessarily going to come true. But there's a path for everybody, and everybody has their story. It isn't necessarily what you think it's going to be. I've been fortunate enough to be able to find my own path here in Europe, and I wouldn't trade it for the world. It's afforded me so many opportunities and not only allowed my family to live here in Europe, it's allowed my mom and my dad, who would've never had a passport, to come to Europe and be able to experience so many different things and so many different cultures. ... My teammates at UNCG who are some of my best friends have been able to come to Europe and experience that together. Obviously, anybody would love to play in the NBA, but being able to play in Europe and having those opportunities and memories … I wouldn't trade those for anything.
Q: How does the EuroLeague game compare to the NBA?
A: Every possession matters a lot more in EuroLeague than in the NBA because there are fewer possessions. The way I would compare it is chess and checkers, that's the best analogy. The NBA is speed and entertainment and everything happens quickly, like in checkers. EuroLeague is a lot slower, a lot more about strategy, more methodical. Like the game of chess you have to think a lot more, read the situations a lot more. Obviously, the NBA is entertaining and has the most talented players in the world, but there are 82 games so they're able to lose maybe three or four games in a row and still be in contention. In the EuroLeague, we only play 30 games during the regular season, so if you lose two or three games you could be out of the playoffs and not have a successful season.
Q: What does a team captain and a successful EuorLeague veteran make for a season?
A: I'm not going to give an exact number, but in comparison to the NBA, I'm right around what the veteran minimum would be (that was nearly $2.4 million for the 2018-19 season). One of the big differences is that here in Europe teams generally take care of all off-court expenses. They take care of your apartment. They take care of a car and living expenses like your phone bill, travel back and forth for your family. The majority of your salary you're able to take that back home.
Q: How many years do you have left on your contract with CSKA?
A: After (winning the VTB United League title) tonight I'm a free agent, so we'll see what happens. But I do anticipate that I will be back next season. (Eurohoops.net has reported that Hines and CSKA agreed to a two-year extension.)
Q: Are there any endorsement opportunities for top American players like yourself in the EuroLeague?
A: Not as prevalent as in America. Usually what companies here do is they endorse teams. Teams are more popular here because of the turnover with players. ... I know some guys who've played 10 years and played for 10 different teams in 10 different countries.
Q: You did a diary for the News & Record during your first season with Prima Veroli in the Italian second division. How many of those stories have you had through the years?
A: (Hines laughs.) I've had so many stories and experiences, both good and bad. I still remember getting my car stuck in a ditch the very first day of practice and everybody laughing at me and, throughout that year, basically destroying the car, turning a nice Mercedes into something you'd see rolling through a neighborhood with one headlight out, the side mirror falling off and the car sputtering up the hill. Those are the kind of experiences that when you're younger give you an opportunity to grow and learn about living in a foreign country.
Q: What's it like off the court? How often are you recognized?
A: Moscow is a huge city, basically like New York. Since we won the championship I'm starting to get recognized more now than in the past, but when I was in Italy, when I was in Greece, when I was in Germany we would get stopped all the time. A funny story is that in New York there's an Olympiacos fan club and my brother-in-law casually wears the jersey. People stop him all the time and ask, "How do you know Kyle Hines?" Once in a while when I'm in New York, in Manhattan, some Greek fans will stop me and say hello. My dad works in Atlantic City at one of the casinos. He gets people all the time who travel from Europe. Every once in a while people from Serbia or other countries will read his name tag and ask if he's related to Kyle Hines. He'll say, "Yeah, that's my son." People won't believe him, so he'll pull out pictures. … I'm surprised every once in a while when I'm pushing the double stroller around the mall and people will stop my wife and I and ask for a picture.
Q: That's the positive side. Is it tough in the political climate right now in Europe?
A: Surprisingly, no. A lot of family and friends who haven't been to Moscow ask if it's safe here. Russia is a natural adversary of the United States, and there's always propaganda between the countries. People ask if we feel comfortable here, but we love it here. Me and my family have not once felt uncomfortable, like our lives were in danger. People here are very warm, very open. We don't necessarily feel the political climate.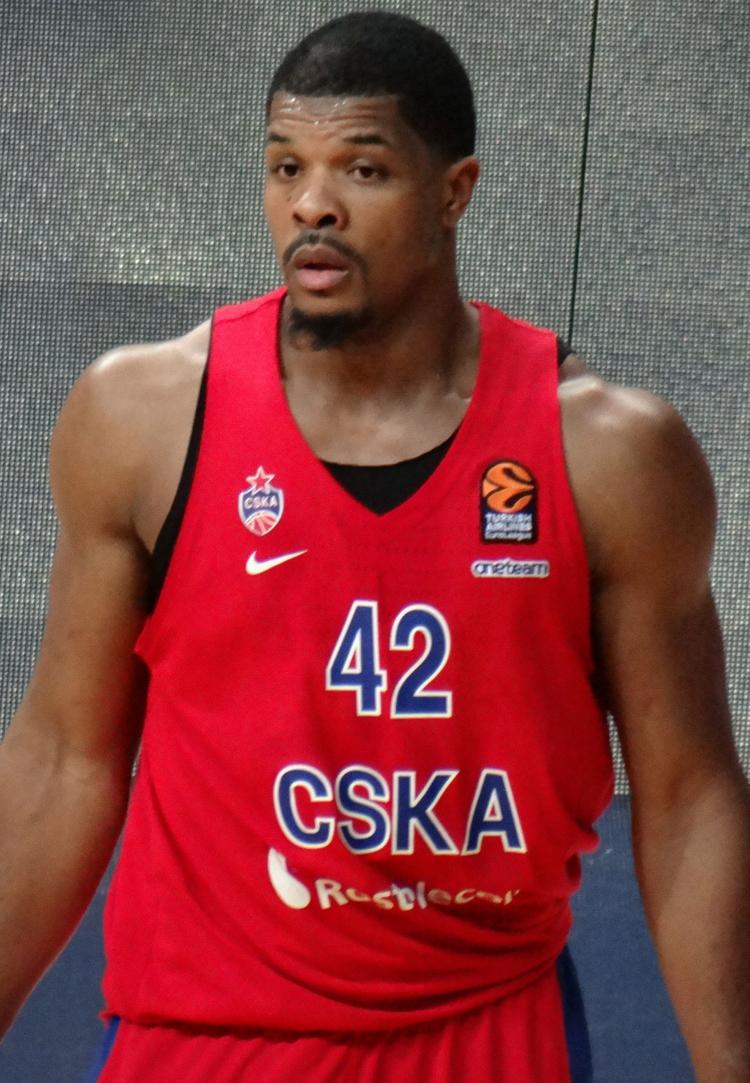 Q: How much longer do you want to play?
A: If you talk to my wife, she wants me to play until I'm 40. (Laughs.) When I left UNCG, I told myself 10 years. I wanted to play at least 10 and see where I go from there. Tonight I just finished year 11 and I'm feeling great, my body's held up well. I want to play as long as I possibly can. My new motivation is having two young kids. I want them to remember me scoring a basket. I don't want to be telling them, "Your dad was good. Your dad used to play basketball." I want them to actually remember me playing and playing well.
Q: What's your favorite city you've played in?
A: All of them — and this isn't just the political answer — because I've had a different experience in all of them. I've been fortunate to play in cities that have had a different feel. When I was in Italy, it was a very small authentic Italian village with about 5,000 people. Nobody spoke English. There were wild goats and horses running around. People took their laundry to the center of town to wash it. I really had a sense of what it was like to live in an Italian village, but at the same time if I wanted a big-city feel I was 25 to 30 minutes away from Rome. I could experience all this culture, see the Coliseum, see the Vatican, all these different things. When I want to Germany, it was a little bit bigger city, 70,000 or 80,000 people, but it was a very authentic German city. One of the things about it was that during World War II they were bombing and destroying cities over 100,000. So it was one of the few cities in Germany that still had that old feel. Being in Athens, it speaks for itself. I was 10 or 15 steps from the beach and seaside. I could visit the Acropolis and everything Greece has to offer culturally. Then coming to Moscow, it was a totally different experience. It's a place that went through the Soviet system. Being able to go to Red Square and to visit the Kremlin, living through the harsh winters and visiting cities like St. Petersburg and Kazan and seeing Siberia has been an experience. All of them have been an experience, and I've enjoyed everywhere I've lived.
Q: How cold does it get in Moscow?
A: (Laughs.) I can't even put it in words. It's not so much the cold, it's the overcast skies and the darkness. In January and February, sometimes there's no sun, but when the sun rises it's at like 10 a.m. and sets by 4 p.m. There's no light. Everything is white. That's the most difficult time.
Q: How many languages do you speak?
A: I used to speak Italian almost fluently. I was able to read, able to write, watch TV, carry on conversations with people. But I kind of lost it over the past few years. I still understand it. In Germany, everybody speaks English. I know some German. In Greece, everybody speaks English in Athens, so I never really had to use it. Russian is a really difficult language to learn and understand because the Cyrillic alphabet is really a challenge. I understand a fair amount. I can't write in Russian. My daughter gets it at her school and understands it better than me or her mom. It's a work in progress.
Q: What advice would you give to someone thinking about starting their basketball journey in Europe?
A: I would say number one, come with an open mind. Don't compare everything to home. That's one of the biggest mistakes players make. Try to get immersed in the culture and go with an understanding of where you're going and the people and the lifestyle there. Get out of your apartment or wherever you're living and explore and talk to people and see the sights. Don't sit in your apartment all day playing Xbox or be on your computer. On the court, number one is basketball. If you're going to be a professional you have to treat it like a professional. You have to put your work in just like anybody else who's trying to be successful in a career. You're here for basketball, whatever your angle is — if you want to make it to the NBA or you want to have a long career in Europe — remember that and stay focused on your goals.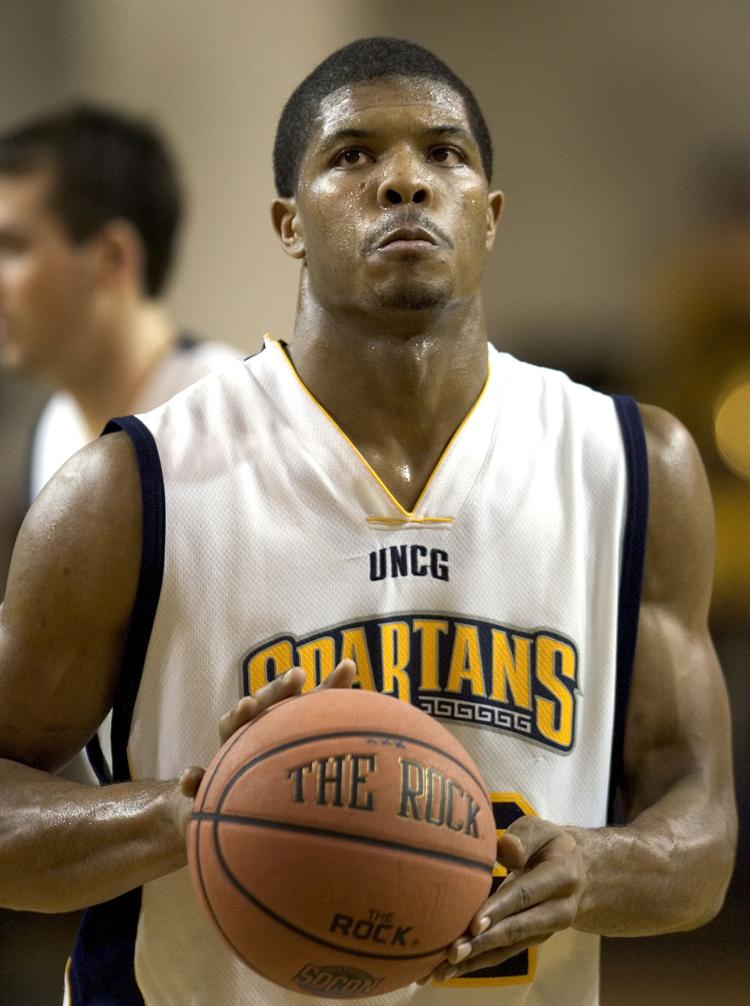 Q: How closely do you follow UNCG basketball? How hard is that in Europe?
A: I follow it a lot. I watch some Saturday games now with ESPN3. I text some of the players. (Spartans coach) Wes Miller and I have a good relationship, so I message him. A lot of my friends are former teammates and we're in communication with each other. When they made their tournament run we were all excited and talking about that. … I try to help the players there and the coaching staff in any way that I can.
Q: Have you played in Greensboro since you finished at UNCG?
A: I played one time on the eve of Ricky Hickman's wedding four or five years ago. We didn't have anything else to do, so we went to the G and played pickup in the practice facility with some of the guys. (The Basketball Tournament) will be my first time playing in Greensboro in an official game since Senior Night in 2008. That's kind of crazy to say.
Q: Did your wife, Gianna, actually appear in an episode of "Say Yes to the Dress?"
A: Yes, she did. When she told me she was applying to be on, I kind of nonchalantly said, "OK, whatever." When she actually got picked and was filming it … I'd never watched "Say Yes to the Dress." I didn't understand the magnitude of what the show was. We've been married almost four years now, and since the episode aired every year it's on — and they show it in Europe — somebody will come up to me and say, "I saw your wife on 'Say Yes to the Dress.' " It's great, but I have a confession to make. I have yet to watch the episode.
Q: When this chapter of your life ends, what's next?
A: I really don't know. I'm starting to figure that out now, starting to immerse myself in different things. I know I definitely want to be involved in basketball in some capacity. This summer I'm going to start talking to people and figure out exactly what that is. Did I ever see myself coaching? No, because as a player it's difficult to imagine yourself on that side. But many people have talked about it. I'm open to everything. I want to take the opportunity to learn over the next couple of years so that when this chapter finally does close, I have an idea of what I want to do and where I want to go. The great thing about basketball and about sports is that there are so many opportunities, so many career paths you can take. Whether it's as a coach, an agent, front office, there's so many chances with basketball becoming a true global game. We'll see.