CHAPEL HILL — Cam Johnson walked into the Smith Center on Wednesday night as he has so many times, taking advantage of the solitude of an empty arena to get shots up, but this time was different.
He took a few minutes out of his routine just to appreciate it all — the banners, the worn Carolina Blue seats and the massive screens.
"I came in and just stood at midcourt as if it were the tipoff," he said. "Just kind of looked around and gave myself a couple of minutes to let it soak in that I only have one more left in there."
Most of all, he appreciated his journey to North Carolina, joining Luke Maye and Kenny Williams to form the Tar Heels' most unlikely senior class — three players bonded by fate and fueled by their faith.
Originally afterthoughts in their recruiting classes, Maye and Williams will leave Carolina with at least two Final Four appearances and one national title, while Johnson is a lock for All-ACC selection and has the Tar Heels in position to capture the ACC regular-season title and potential No. 1 seed in the NCAA Tournament.
"We weren't really talked about a lot, we weren't really highly touted, we weren't five-stars, there wasn't a lot of media attention about us, then you throw Cam in there, and we know that he wasn't really highly recruited out of high school," Williams said. "We just came in and did our work; that's how we became the players we are today … I think that attitude and that mood will be our legacy; just three guys that just came in and tried to improve every day -- to go from where we were as freshman, to where we are now."
Patience is a virtue
Maye got used to the hate; came to embrace it, in fact.
Too slow, not athletic enough, bad defender, just doesn't have the look. You name it, he's heard all of the reasons he shouldn't be playing at Carolina, why he shouldn't start at Carolina, why he'd never be an impact player at Carolina and why his breakout junior season was a fluke.
"People didn't think I could play here, didn't think I could start here, didn't think I could be the impact player that I am, and I just think I continue to prove people wrong each night," Maye said after scoring 30 points and grabbing 15 rebounds in a win at Duke.
It's easy for outsiders to have their doubts, given they never saw Maye practice or knew him off the court, but there were several people with a different perspective who never saw this coming. Roy Williams recalled a meeting with his staff during the summer of 2016.
"I had one coach say, 'You like Luke a lot more than everybody else does,'" Williams said. "I said, 'That's right, and I'm the frickin' head coach and that makes a difference.'"
The head coach had plenty of Tar Heels fans freaking out back in 2015. Duke hung a national championship banner that year while Carolina remained under the cloud of an NCAA investigation. The Tar Heels coaching staff signed only Maye and Kenny Williams, ranked Nos. 155 and No. 96, respectively, in that year's recruiting class. Williams had been committed to VCU before making a late switch.
The son of former Carolina quarterback Mark Maye, Luke grew up a Carolina fan and had been going to Williams' camp for most of his life, impressing the coach with his size, hands, shooting ability and willingness to be coached.
"Those kind of guys can play — I don't know where or what level or how they'll fit in — but those guys will figure out a way to play," Williams said.
He wasn't ready to extend a scholarship offer, but Williams remembered talking to Mark Maye in the hallway beneath the Smith Center one night early in Luke's high school career, urging him to be patient because he thought the younger Maye would be good enough to play at Carolina.
Contrary to the popular narrative, Maye had other opportunities, as Clemson, Davidson, Notre Dame and Virginia all offered scholarships. Despite the fact that a scholarship wasn't immediately available, Maye signed with Carolina as an invited walk-on, but he didn't plan to treat his time in Chapel Hill like that of a walk-on.
"I just had a lot of confidence in myself and my parents wanted me to go somewhere I was comfortable," he said.
A banner year
Williams, a sharpshooter out of Richmond, Va., was set to stay home with the Rams before Coach Shaka Smart took the job at Texas on April 2, 2015. A week later, Williams reopened his recruitment.
Roy Williams had seen Kenny Williams play on the AAU circuit and left impressed after a particular sequence that saw Kenny twice take a charge and immediately follow it up with a three-pointer. Rules barred him from watching the pickup game he played on his recruiting visit, but his future Tar Heels teammates walked away impressed.
"Every player said, 'God almighty, he made every shot,'" Roy Williams said.
Kenny Williams signed in May, giving Carolina a couple of nice role players to complement an experienced roster with Final Four aspirations, but that's where the feel-good story ended for Maye and Williams in their freshman season.
Maye played 178 minutes, making 15 field goals and turning over the ball 15 times while Williams had an even more difficult season, making only one three-point attempt in his 122 minutes. Often, the two just went back to their dorms and shut their doors instead of socializing.
The turning point for all three Carolina seniors came the next season.
After earning a bigger role thanks to his lockdown defense, Williams suffered a season-ending knee injury in February.
Maye, however, played the best basketball of his life over two nights in Memphis. First, he delivered delivering 16 points and 12 rebounds in a Sweet Sixteen victory against Butler. Then he knocked down a game winner to beat Kentucky in the Elite Eight, ultimately helping the Tar Heels win their sixth NCAA championship.
"That was a giant leap, no question about that," Williams said. "That one gave him more confidence."
As Maye's confidence grew, Kenny Williams had his tested.
Just when he had finally gotten himself on track at Carolina, he was forced to watch from the bench, knowing he couldn't help his team in a march to the national title. Without basketball, he looked toward something bigger.
"That is the reason I am who I am today," he said. "Those first two years were really a struggle, between not making shots and turning around and finally starting to get in my groove and not being able to play, I kind of had to lean on something else and that's where my faith really was grounded."
Meanwhile in Pittsburgh, Johnson would have an opportunity to become the Panthers' star player after averaging 11.9 points as a sophomore. Ultimately, he decided he'd spend his final two seasons elsewhere after graduating.
That place would be Carolina, and shortly after meeting Maye and Williams on his recruiting visit, Johnson knew he'd made the right decision.
Keeping the faith
Johnson joined a team that had strong voices, Joel Berry and Theo Pinson, while Williams began developing himself as an outspoken leader. The integration of Johnson, who'd already established himself as a solid ACC player, was seamless.
"He's such a good kid," Roy Williams said. "People enjoy him and he's really easy to get involved. He lost himself in the team and didn't say anything or didn't act any different way."
Maye and Williams, longtime roommates, went as far as inviting Johnson to live in their house, replacing the departed Justin Jackson.
"For them to easily allow me to join in with them and join in with their class and their living situation, I knew they were special guys," Johnson said.
Together, the trio has helped Carolina put together another special season. One that, like them, had its share of doubts early.
Johnson, averaging 16.9 points, is likely headed for a first-team All-ACC selection. Maye has come on strong to finish the season with a second straight All-ACC nod likely in his future. Williams' scoring numbers have dropped, but his value as a perimeter defender and leader has been immeasurable for a team that has gone from its worst home loss under Williams to a potential No. 1 seed in the NCAA Tournament.
Even when things weren't going well in January, all three seniors didn't panic, pointing out that the Tar Heels were on the verge of figuring it out.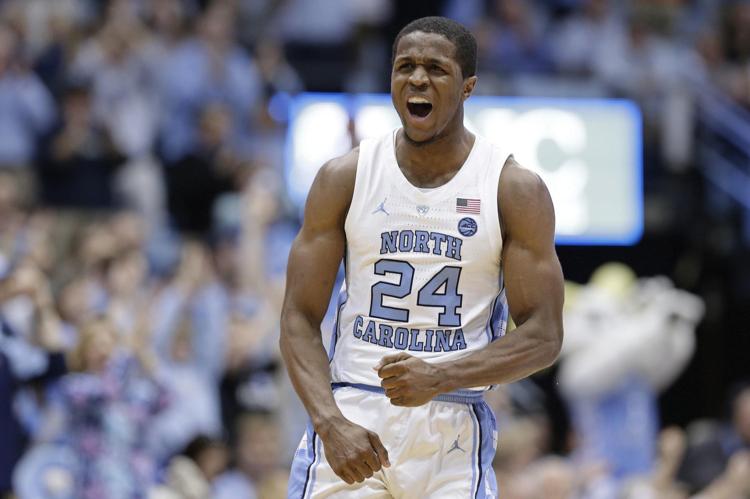 They had faith in their coaches and faith in one another.
That's what this journey has been about for all three.
Williams found his faith in a higher power, Maye maintained his faith in himself and his coach, and Johnson took a huge risk by leaving the comfort of home in search of something more.
That belief has sustained all three in one way or another.
"Whatever happens on the court, whether I make 10 threes or whether I make zero, I know God is going to love me and I've been able to rest in that," Williams said. "I've been able to find some peace in that, and I don't think I'd be at this point without my freshman and sophomore years going the way they did."
Nearly 500 miles from the world Johnson grew up in and minutes from the school he followed in his father's footsteps to play at, he found a new home.
"This is a special place," Johnson said. "It's the best decision I've ever made in my life to come here and be a part of this. Part of me really didn't know what to expect, changing schools midway through my career … but it's been awesome."
And for Maye, his faith will make him one of the most beloved Tar Heels of all-time.
"The thing I'll remember for the rest of my life is how far the kid came, how hard he worked," Roy Williams said. "That desire, that determination, and the belief in himself, I appreciate that ... He knew if he did it the way he'd wanted to, he'd get a chance. I take a lot of pride in the fact that he knew I'd give him a chance if he got to that level.
"Wes Miller got the most out of his potential of any player I've ever coached. Luke Maye is in that discussion, so I hope he's proud of that because I'm really proud of him for it."
Carolina basketball seniors
Carolina basketball seniors
Carolina basketball seniors
Carolina basketball seniors
Carolina basketball seniors
Carolina basketball seniors
Carolina basketball seniors
Carolina basketball seniors
Carolina basketball seniors
Carolina basketball seniors
Carolina basketball seniors
Carolina basketball seniors
Carolina basketball seniors
Carolina basketball seniors
Carolina basketball seniors
Carolina basketball seniors
Carolina basketball seniors
Carolina basketball seniors
Carolina basketball seniors
Carolina basketball seniors
Carolina basketball seniors
Carolina basketball seniors
Carolina basketball seniors
Carolina basketball seniors
Carolina basketball seniors
Carolina basketball seniors
Carolina basketball seniors
Carolina basketball seniors
Carolina basketball seniors
Carolina basketball seniors
Carolina basketball seniors
Carolina basketball seniors
Carolina basketball seniors
Carolina basketball seniors