The Greensboro Coliseum is playing host to the U.S. Figure Skating Championships for the third time. The national championships were also held there in 2011 and 2015. Competition for junior skaters began Tuesday, and the Olympics-level seniors will compete Thursday through Sunday. If you're a casual skating fan — or a total neophyte to the sport — here's what and who to watch this year in the senior divisions.
Programs
The competition for each discipline — men, ladies, pairs and ice dance — consists of two parts, a short program (called the "rhythm dance" in ice dance) and a long program (also referred to as the "free skate" or, in ice dance, the "free dance"). There are required elements that skaters must do in each program, and programs must last a specified length of time. Scores for each program are added together for the final result.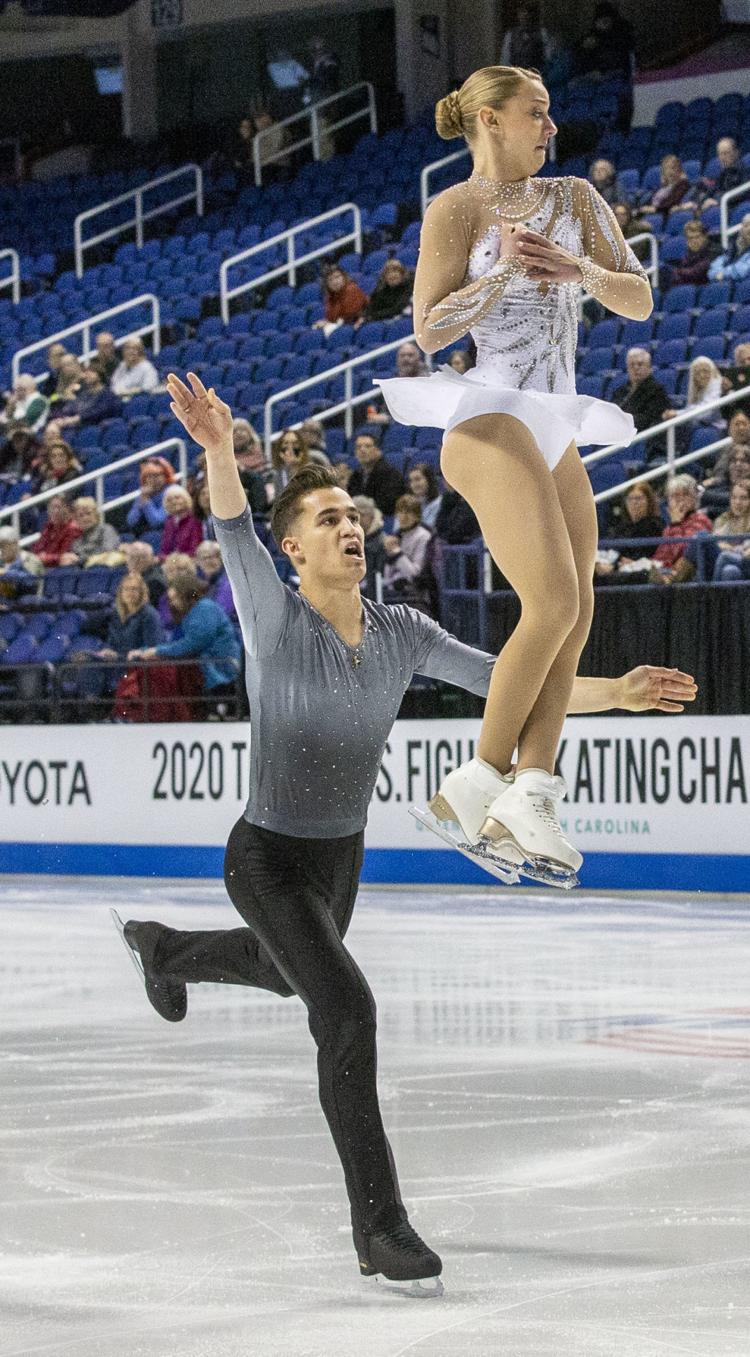 Scoring
Each element (jump, spin, lift, etc.) has a starting point value based on difficulty. Skaters can earn up to five extra points for doing an element particularly well, or be docked up to five points if they do the element poorly, known as the Grade of Execution. This was raised from a range of plus or minus three points before the 2018-19 season. There are automatic deductions for a fall or other violation, such as a program that goes over the time limit. Jumps done in the second half of a program earn a 10% bonus. Skaters receive separate scores for technical elements and program components (somewhat akin to the old "artistic" score from the 6.0 scale days), which are added for their final program score.
Podium level scores
Men's scores tend to be higher than ladies' scores, because they do more difficult and a greater number of jumps. Here's a quick look at what total score is likely to earn a skater a medal; keep in mind that this is only a rough guide, since scores can obviously vary from competition to competition, based on how many skaters land all their jumps or even how generous a panel of judges is with their scoring.
Men: 250+ (American Nathan Chen set the record total of 335.30 in the December final of the ISU Grand Prix, the main early-season international competition series.)
Ladies: 200+ (Russian Alena Kostornaia also set the record of 247.59 at the Grand Prix final.)
Pairs: 190+ (China's Wenjing Sui and Cong Han set the record of 234.84 at the 2019 World Championships.)
Ice dance: 190+ (Gabriella Papadakis and Guillaume Cizeron of France set the record of 226.61 this past autumn at the NHK Trophy, part of the Grand Prix series.)
Skates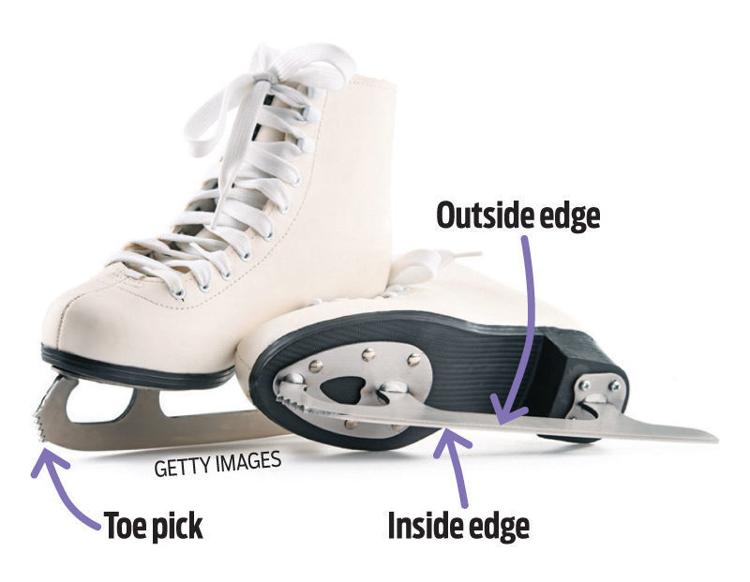 The skates are very personal to each skater and take months to break in, so they're molded to their feet. The blades aren't flat but have a concave groove down the center, so that each blade has two distinct edges: an inside edge and an outside edge. Unlike hockey skates, figure skates have a serrated toe pick at the front of each blade that skaters use to propel themselves into the air for some jumps.
Jumps
Skaters do six common jumps. From least to most difficult, they are the toe loop (or just "toe"), Salchow, loop, flip, Lutz and Axel. Three jumps are toe jumps, meaning they take off with use of the toe pick: the flip, Lutz and toe. The other jumps (Axel, loop and Salchow) are edge jumps and take off from the blade. Each jump has a specific edge that it's supposed to take off from. If a skater takes off from an incorrect edge, they will receive an edge violation.
It can be difficult for a viewer to tell the difference between the jumps, but the Axel is always the easiest to spot, because it's the only jump that takes off facing forward. It's also the most difficult, since it involves an extra half-rotation (skaters land going backward). You can also usually spot the lutz, because it requires a long backward approach and many skaters tend to kick their free leg up high behind them before they go into the jump (it's considered bad form to go too high, though).
Putting single, double, triple or quad before the jump's name indicates how many rotations the skater makes in the air. It's practically obligatory now for the top men in the world to have at least one quad in their programs.
The men
Barring a catastrophe or injury, Nathan Chen will win. He has won every individual competition he's entered since he faltered in the short program of the 2018 Olympics, setting record scores along the way — all while attending Yale and training with his coach via Skype. The biggest drama surrounding Chen this season has been his colorful shirt choices. Fans might remember his first competition in Greensboro in 2011, when he won the novice title as a 10-year-old. He recently bested two-time defending Olympic champion Yuzuru Hanyu in the Grand Prix finals by a wide margin, landing five quads in the long program.
The real competition is for second and third place. Vincent Zhou, last year's nationals runner-up and worlds bronze medalist, took off the Grand Prix season, but has since changed coaches and plans to compete in Greensboro. Jason Brown is a fan favorite for his artistry, but his technical components fall short of the top men in the world, because he doesn't have a consistent quad.
Other skaters to watch include Camden Pulkinen; Alex Krasnozhon; Tomoki Hiwatashi, last year's world junior champion; and Jimmy Ma, known for his high-energy music and routines.
The ladies
The ladies' field has taken a massive technical leap since the 2018 Olympics, when American Mirai Nagasu became the first woman to land a triple Axel in the Olympics. Now, a crop of young Russian skaters are regularly landing triple Axels and quad jumps in competition.
Last year, Alysa Liu became the youngest ever individual U.S. national champion at 13 years old — and she's still too young to compete in senior international competition. She was helped to the title with multiple triple Axels, and is also the first American woman to land a quad in competition.
Bradie Tennell, last year's silver medalist, was the only U.S. woman to make the Grand Prix final this season and is probably the most consistent of the U.S. ladies, although she so far lacks the triple Axel or quads. She's been considered a more technical skater, but she's taken a big step forward in her artistry from last season.
Reigning bronze medalist Mariah Bell is known for her lovely artistry and has been improving her technical consistency. Gracie Gold, the 2014 and 2016 national champion, has been attempting a comeback from mental-health and eating-disorder issues, and has qualified to compete in Greensboro. Some other skaters to watch include Starr Andrews, Amber Glenn, Emily Zhang and 2017 national champion Karen Chen.
Ice dance
This is an overall strong discipline for the United States, with two teams winning medals in the Grand Prix final. Madison Chock and Evan Bates have been a top-three team for years but had seemingly been passed recently by Madison Hubbell and Zachary Donohue in judges' favor. However, Chock and Bates took silver in the Grand Prix final to Hubbell and Donohue's bronze. The battle between them for the top spot at U.S. nationals is likely to be fierce and could go either way.
Kaitlin Hawayek and Jean-Luc Baker generally do well in international competition. Also keep an eye on Christina Carreira and Anthony Ponomarenko; he's the son of Soviet ice dancers who won Olympic medals in 1984, 1988 and 1992.
Pairs
This is definitely not the United States' strong suit, with no teams among the top in the world. There are no resounding favorites, and the winners will likely come down to which team makes the fewest mistakes. Required side-by-side jumps are often the downfall for teams. No team has repeated as champions since 2014.
Ashley Cain-Gribble and Timothy LeDuc won the national title last year, but Haven Denney and Brandon Frazier had the best showing among U.S. teams in the Grand Prix series. Alexa Scimeca Knierim and Chris Knierim won a bronze medal with the U.S. in the team competition in the 2018 Olympics and are particularly known for their quad twist, but are inconsistent.
Other possible medalists include Tarah Kayne and Danny O'Shea, and Jessica Calalang and Brian Johnson.
The Schedule
What: U.S. Figure Skating Championships
When: Tuesday-Sunday.
Where: Greensboro Coliseum.
Tickets: $5-75, depending upon the session; available at Ticketmaster.com, Greensboro Coliseum box office.
Information: ncskate2020.com
Wednesday
9 a.m.: Junior ladies short; $5-20.
11:45 a.m.: Junior men's free skate; $5-20.
2:45 p.m.: Junior pairs free skate; $10-25.
8:45 p.m.: Junior free dance; $15-30.
Thursday
11 a.m.: Junior ladies free skate; $15-30.
4:30 p.m.: Senior pairs short; $20-40.
7:30 p.m.: Senior ladies short; $25-60.
Friday
4:30 p.m.: Senior rhythm dance; $20-50.
6:30 p.m.: Opening ceremonies and senior ladies free skate; $30-75.
Saturday
1:30 p.m.: Men's short; $25-60.
6 p.m.: Senior pairs free skate; $30-70.
9:30 p.m.: Senior free dance; $35-70.
Sunday
2:30 p.m.: Men's free skate; $30-70.
7:30 p.m.: Skating Spectacular; $30-57.50.